Daughters of Custom Build-Off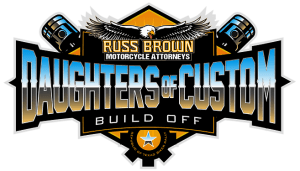 3 Teams, 3 Bikes and 3 ways to support the Military
Every story has a beginning. For Sofi Tsingos it began in a two-car garage packed with motorcycle and hot rod parts. For Roy Martin, it was with his first beloved Harley that he tore apart at the risk of royally pissing off his wife. For Austin Andrella, at age 23, he just wanted to build a dream custom bike that took the better part of 5 years to accomplish.  Although each story is different, they all have a few things in common –  heart, determination, skill, and most importantly they are built upon family.
Each team will work on a custom build which will be unveiled at the Rally where the public can vote for their favorite bike. One bike will become the official 24th Military Bike for the give-away on Saturday night in a special military tribute, just before ZZ Top performs. The two other bikes will be auctioned and given to a charity that supports our military.
The Republic of Texas Biker Rally is partnering with Russ Brown Motorcycle Attorneys and Biker Pros to bring you the Daughters of Custom Build Off Sofi, Roy and Austin are all are a part of a dynamic father/daughter, teaming up to compete on the national stage at this year's Rally.
"Younger generations are rising up and bringing new innovation and life to the motorcycle industry. And the growth of women riding is one of the biggest shifts taking place," said owner Jerry Bragg. "We couldn't be more thrilled to have these bold and skilled women team with their fathers in the first Daughter/Father build-off competition in the country."
Meet the teams:
Austin Andrella of Austin Martin Originals (@austinmartinoriginals) at the ripe old age of 23.  Following in his footsteps, Austin will be teaming up with his daughter Addy, our youngest aspiring builder at age 13.  How's that for homework?
Sofi Tsingos, owner of #gtmotor was inspired at an early age by following her dad, George around his aircraft maintenance shop, learning what it truly means to be a craftsman. The two will team up this year, using a Royal Enfield for the build

Roy Martin of @roystoyscustoms is a family run business since 1994.  Roy is teaming up with his daughter Nikki who also happens to be at the helm of Roy's Toys as Chief Operating Officer. The duo will be using a sportster for the build
Come out and meet the father/daughter teams and see the one-of-a-kind custom bikes June 7-9th out at the Travis County Expo Center.  Active or retired military can enter the drawing on site at registration or in the Thunderdome or with partnering venues.
Their journeys are just beginning. To learn more about the team's and follow the journey of each build, follow us on: