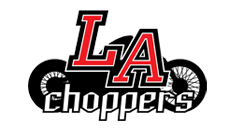 LA Choppers 5 degree Angled Riser Bushing Kit
A customer rolled into Widowmaker Custom Design and Repair in Rougemont, NC complaining about his reach to the handlebars.
His Ape Hangers were a little too far to reach and made it disconcerting while running through the mountain passes and switchbacks in the local Appalachian Mountains.

So he said that he ran through some options for his 1995 Dyna:
New seat from $300 – $500
New bars from $500 – $1,000 installed
Stock mid-controls off eBay – $155
He went for the mid-controls but his BDL open primary isn't configured for mids.  Fabrication would be required and he didn't want to do that.
He was on the hunt for a solution that was a little more friendly to his pocketbook. What Hank Thibodeau of Widowmaker CDR came up with was a set of angled bushings for less than $100 from LA Choppers.
Changing the angle of the bushing can eliminate buying replacement risers, ape hangers, tee-bars, seats or triple trees. Hank pulled out a 5 degree angled riser bushing kit allowing the bars to move forward or back 5 degrees from stock. So the kit will move a set of 15 inch apes back towards the rider approximately 1.20 inches.
The downside of the change is that you are replacing vibration absorbing polyurethane bushings with T-6 aluminum. So, the rider may feel and increase amount of vibration being transmitted through their hands.
Changing out the bushings is a snap. You'll need:
Ratchet with 3/8 allen socket
Small standard screw driver
You unbolt the handlebars from the triple trees one at a time,
Remove the polyurethane bushings with a small thin standard screwdriver.
A screw that secured a ground had popped threw so Hank ground down the bushing to make It fit.
To angle bars towards the rider: install top riser adapters with timing marks facing toward the front wheel. Install bottom riser adapters in opposite direction.
In about 20 minutes you are good to go on a test ride. Note: Check handlebar clearance before operating.
After Hank took a ride on the Dyna, he said the 5 degree angled bushings increased pullback and made a more comfortable riding position for the rider.
About Widowmaker CDR
A lot of guys like small independent shops because you get the opportunity to shoot the shit with the owners and mechanics. And when you get a few guys together, it doesn't take long to start hearing about the women in their life.
One guy dropped his kickstand at Widowmaker and within 5 minutes he was talking about his ex-girlfriend in NYC. On a recent trip, she had met him at an event that required that everyone go through metal protectors. On the way out, a plane-clothed cop had stopped and frisked her.
At dinner they had a delightful conversation catching up. After a few bottles of wine, he was wondering why did they ever break up. As he was getting misty, he remembered the scene and asked, "why did that cop frisk you?"
Well, my boyfriend wants me to travel with him. He sez he loves me. And he takes his private jet all across the world and wants me to quit my job and join him. I haven't decided so I've been stepping out on him. I gave the cop my number and got a frisk in return.
He then said something that you just don't hear a lot of. He said that he had put her in his prayers as she had lost her way. And he hoped she would learn how to stop providing equal amounts of pleasure and pain in her relationships.