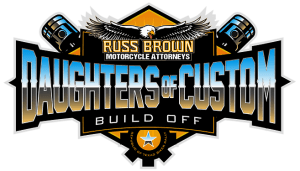 3 Teams – Daughters of Custom Build Off
I was sitting in the James Joyce bar with Dr. Tequila thinking up a promotion for vets. Over the last year I pulled together a few programs including a breakfast, silent auction and a raffle.
Cookie, the disgruntled and disaffected bartender, served me 3 ice cubes and 3 fingers of Stormy Jack Daniels and the Doctor got Tequila.
I was talking about a build off. Dr. Tequila reminded me we had done it before with Cycle Source Magazine and Brass Balls Bobbers and that we needed a new hook. We spit balled on all girl build. We put a text into Chris Callen from Cycle Source and he came back with it had played out and not authentic enough.
Cookie served another round and we came up with the idea of fathers and daughters building charity bikes together and in competition. Next step, how do we make it happen. Fast forward to today and we have the Daughters of Custom Build Off at the ROT RALLY with three teams building charity bikes with the proceeds going to charity.
Builder teams include Niki and Roy Martin of Roy's Toys Customs, Sofi and George Tsingos of GT MOTO and Addy and Austin Andrella of Austin Martin Originals.
Each build team are award winning builders. I first met Sofi and her dad, George, at the J&P Cycles Ultimate Builder Custom Bike Show in Dallas, Texas where they rolled in 4 custom bikes at the 2015 competition and rolled out with 1st place and a $750 check for her 1977 Honda CB550 named Frank.
She builds clean retro custom café-racer motorbikes that look like kinetic art when standing still.
The second meeting was in Austin at the 2016 Republic of Texas Invitational Custom Bike Show where she rolled in with her second project and labor of love, a custom-built St. Jude's Children's Hospital charity raffle bike and rolled out with the Suspension Technologies' Technology Award, a custom painted Nexx American Helmet painted by Schultz Designz and with 1st place and a $1000 check for her 1972 Honda CB450.
'
Approximately 20% of the US motorcycle market is made up of women. So it's not unusual to see women on bikes. What is unusual is to see women building nationally competitive custom bikes.
She graduated from Wyo Tech in 2009 and started her own shop in 2013. The shop works on Ducati, BMW and Triumph but Sofi has gained national prominence for builds of her retro motorcycles from her shop in Plano, Tx.
So that's how GT MOTO started. Sofi credits her Dad for support, guidance and hands-on assistance at her 2-car garage shop in Plano, Texas. So much so that she decided to name the company after him—George Tsingos MOTO or GT MOTO.
Sofi is one of the 3 Teams Daughters of Custom Build Off.