Welcome to the Blue Ridge Run AMD Custom Bike Show

Thousands of bikers roll into the Great Smoky Mountains for the Blue Ridge Run AMD Custom Bike Show. Riders enjoy and are challenged with some of the nation's best ribbons of asphalts that transverse through sprawling landscape of lush forests, streams, rivers and waterfalls.
Location: Cherokee, NC
Dates: September 7th – 9th, 2018
Contact Nu: 817-312-0380
The Blue Ridge Run AMD Custom Bike Show loads in on Thursday September 6th and runs September 7th – 9th, 2018.
ENTER THE BIKE SHOW
Click here to register your motorcycle
Click here to review classes + judging
Next Stop Germany
Winner of the FreeStyle Class is awarded $2,000 plus $7,500 AMD World Championship expense allowance to attend the championship in Germany.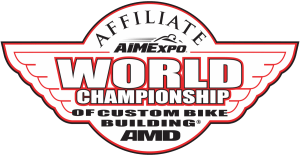 The AMD World Championship of Custom Bike Building (the 'AMD') is a unique custom bike competition.
The class structure has been carefully designed to reflect design and engineering considerations rather than personal styling choices and preferences as such.
The 'AMD' is intended to reward motorcycle design and engineering quality – with the premium being on originality and hand-craftsmanship. All builders must provide a 'Run Test Video' before their bike can compete.
LOAD-IN / LOAD-OUT
Two dates to remember are:
LOAD-IN is on Thursday September 6th. 10AM-7PM
LOAD-OUT is Sunday, September 9th – 5PM
Customizing a motorcycle as an expression of your personal identity has been the essence of two wheel differentiation and satisfaction since the GI's returned home in the 40's.