F Bomb wins Chicago Ultimate Builder – Tony Palermo from F Bomb Baggers takes the win in Chicago and moves on to the Championship round to compete for the $57,000 in cash and prizes.
The Progressive International Motorcycle Show hosted the Chicago round of the J&P Cycles Ultimate Builder Custom Bike Show with three days of wall-to-wall enthusiasts checking out the custom builds on the red carpet.

Winners and runner ups from the Chicago edition of the J&P Cycles Ultimate Builder Custom Bike Show competition are guaranteed entrance into the Ring of Champions.
MOD HARLEY – F Bomb wins Chicago Ultimate Builder
Tony Palermo from F Bomb Baggers was gunning for the top spot at the Chicago round and rolled in 5 custom sleds. His 2016 Harley-Davidson Road Glide sports a 30" big wheel, drop seat, extended bags and a stereo that kicks asphalt was just the ticket for the judges. He took home $1,000 for his effort.
Winner – Antonio Palermo, F Bomb Baggers – 2016 Harley-Davidson Road Glide
Runner Up – Dave Dupor, DD Custom Cycle- Named Nightmare, 2006 Harley-Davidson Road Glide
Harley-Davidson is the presenting class sponsor, along with Harley-Davidson, J&M Motorcycle Audio and K&N Filters, providing product sponsorship.
FreeStyle – Tim Scates takes the big check
Tim Scates' 2006 Custom was fabricated with twisted down tube frame and custom gas tank, handlebars and exhaust. Additional updated include split rocker boxes, custom engraving, diamond cut heads, Danny Gray seat, split gas/oil bag, flame throwers, 21″ spool front wheel, 1920's era police car spotlight headlight, 1956 Cadillac air vent air cleaner, Hurst floor shifter forward controls and1938 Chevrolet tail light. Tim came away with a check for $2,000.
Winner – Tim Scates – 2006 Custom
Runner Up – Wayne Burgess – named Spitball Magoo, 96″ shovel head
Green Earth Technologies provides a product sponsorship in the Freestyle class with their portable power sprayer and green bucket of polishing and cleaning materials.
RETRO MOD – Steve Dietzman takes the win
Steve Dietzman's 1968 Triumph features Chopper 21″ front wheel with JR. Cycle Products spool hub, 18″ rear Triumph chrome spool laced to an NOS Dunlop rim, matching front and rear Firestone bias ply tires, hand bent and chromed one off sissy bar, Low Brow Customs wassell tank, all wrapped in a candy red metal flake with gold pin striping. He came away with a check for $750.
Winner – Steve Dietzman – 1968 Triumph Chopper
Runner Up – Joe Morris, J Moto Gallery – 1992 Kawasak Ninja ZX750J
Royal Enfield is the presenting class sponsor, along with Royal Enfield and K&N Filters providing product sponsor in the class.
MOD CUSTOM – Juan Rodriguez's Hayabusa takes the win
Juan Rodriguez's custom 2004 Suzuki Hayabusa scintillated under the lights of the Donald E. Stephens Convention Center in Rosemont, IL, located just outside of O'hara Airport. The blue and silver daily rider rolled in with fresh paint and a 300 rear meat and extended swingarm. Custom paint with airbrush graphics, custom seats, polish frame, over 100 leds, plexiglass grad bar with LEDs, custom cut out on fairings and hump, custom rims and plexiglass khanji symbol. He came away with a check for $750.
Winner – Juan Rodriguez – 2004 Suzuki Hayabusa
Runner Up – Karsten Illg -1998 Buell S1 Lightning
Condor Products is providing a product sponsorship.
People's Choice and Best Paint was awarded to the 2011 Harley-Davicson Street Glide from Dallas Castle named Rizen. Paint by Automotive Tattoos. Dallas won a Custom 500 lid from Bell Helmets and $100 gift certificate from J&P Cycles.
Jason Neiman of SS Trikes took the Ingenuity Award for his custom big wheel styled bike. It features easy maneuvering, automatic transmission, 26" forged wheel, flat gray paint with scallops.
The Originality Award went to Todd "Gilby" Gilbertson and his custom motorcycle that features triple carbs and plenty of engraving.
The K&N Award winner is Joe Morris of J Moto Gallery for their 992 Kawasak ninja zx750J. Joe Morris receives up to $500 in K&N product awards.
SHO DOG is awarded to the individual that works the show to promote their business and the custom bike industry. Brad Ruth of BFD Parts won The Leatherworks solo chopper bag for his efforts.
About the J&P Cycles Ultimate Builder – Elite-level, custom motorcycle creations compete for cash and product prizes. The Chicago stop we will host the Championship Round of the J&P Cycles Ultimate Builder Custom Bike Show, and both professional and amateur builders from throughout the US will compete for cash and product valued at $50,000, the largest prize of any competition in the United States.
Ultimate Builder Results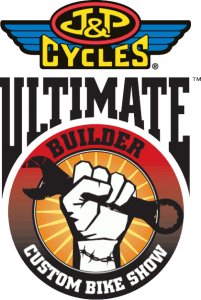 US Nationals Recap – Nick Beaulieu is The King of the Builders
Long Beach, CA Recaps – Andrew Urlich Win
New York, NY Recap – Nick Beaulieu takes NY by Storm
Washington D.C. Recap – Ross Latimer takes MOD Harley
Dallas, TX Recap – Speed Foundry Takes 2 Classes
Cleveland, OH Recap – Austin Andrella takes 2 classes
Minneapolis, MN Recap – Jordan Dickinson of Union Speed and Style takes FreeStyle & Retro MOD
Chicago, IL Recap – F Bomb takes MOD Harley