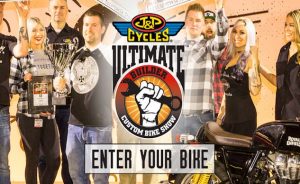 2017 Ultimate Builder Custom Bike Show Kickoff
The Progressive® International Motorcycle Shows® (IMS), an industry leader on connecting powersports brands with highly qualified enthusiasts and buyers, today announced the return of the Ultimate Builder Custom Bike Show hosted by J&P Cycles produced by Jeff Najar of Biker Pros.
"$50 Gets You in Front of 10,000+ Motorcycle Enthusiasts," explained Najar. "Enthusiasts need a reason to get excited about what builders are showcasing and we assist builders in telling thier story."
Hank of Widowmaker CDR had this to say about attending the Ultimate Builder Custom Bike Shows.
In addition a "do-it-yourself" demonstrations from Grease & Gears Garage (which will be presented by emcee Pat Jansen) is added to this year's tour.
Grease & Gears garage, presented by Cycle Source Magazine, will feature a lineup of live demonstrations from top custom motorcycle builders and craftsmen in the industry, providing an inside look at custom building and motorcycle repair techniques including:
How to build custom exhausts
Rebuilding carburetors
Upgrading controls
Frame fabrication