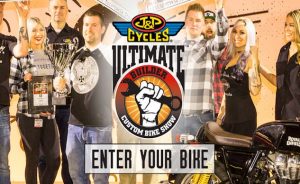 2017 Ultimate Builder Custom Bike Show Kickoff
The Progressive® International Motorcycle Shows® (IMS), an industry leader on connecting powersports brands with highly qualified enthusiasts and buyers, today announced the return of the Ultimate Builder Custom Bike Show hosted by J&P Cycles produced by Jeff Najar of Biker Pros.
"$50 Gets You in Front of 10,000+ Motorcycle Enthusiasts," explained Najar. "Enthusiasts need a reason to get excited about what builders are showcasing and we assist builders in telling thier story."
Hank of Widowmaker CDR had this to say about attending the Ultimate Builder Custom Bike Shows.
In addition a "do-it-yourself" demonstrations from Grease & Gears Garage (which will be presented by emcee Pat Jansen) is added to this year's tour.
Grease & Gears garage, presented by Cycle Source Magazine, will feature a lineup of live demonstrations from top custom motorcycle builders and craftsmen in the industry, providing an inside look at custom building and motorcycle repair techniques including:
How to build custom exhausts
Rebuilding carburetors
Upgrading controls
Frame fabrication
Over the course of the live demonstrations, the team will work towards building a custom Harley-Davidson FXR named "The War Pony." The demonstrations will take place in every city and also be streamed on Facebook Live through the official IMS Facebook page.
J&P Cycles is considered the world's largest aftermarket motorcycle parts and accessories store, and Cycle Source Magazine is the premiere news resource for custom bike builders. The IMS tour kicks off in Long Beach, CA from November 17-19. For more information and to register for a media pass, please visit: motorcycleshows.com.
The J&P Cycles Ultimate Builder Custom Bike Show is the world's largest motorcycle builder competition, featuring more than 350 motorcycles and $100,000 in cash and prizes across the IMS Tour.  Professional and amateur builders compete at their local IMS for cash, prizes, recognition and a chance to move-on to the Championship Round in Chicago – where $70,000 in cash and prizes is up for grabs!
Classes:
– Freestyle
– Modified Harley
– Modified Retro
– Custom Street
Category Awards:
– People's Choice: Voted by the IMS Attendees!
– Best DYNA / FXR
– Best Chopper
– Best Bagger
"Customization is a major trend in the motorcycling world. Now, more than ever, our attendees are curious about the possibilities of do-it-yourself customization and economical ways they can maintain their own bikes," said Tracy Harris, senior vice president, Progressive International Motorcycle Shows. "J&P Cycles and Cycle Source Magazine are both at the forefront of the custom motorcycle builder community, and between the Ultimate Builder competition and Grease & Gears Garage demonstrations, every enthusiast will have an opportunity to gain the skills and knowledge they're looking for."

"As the leader in helping riders customize their motorcycles, all of us at J&P Cycles are stoked to present the Ultimate Builder Custom Bike Show (UBCBS) and recognize the amazing work of America's bike builders," said Zach Parham, president of J&P Cycles parent company, MAG Retail Group.
The UBCBS is the world's largest motorcycle builder competition, attracting many of the best builders from across the country to compete in four different building classes including Custom Street, Freestyle, Modified Harley and Modified Retro. The competition expects over 350 builders will enter for the chance to win $100,000 in cash and prizes across the tour. The competition will take place at every stop on the IMS tour. The winner from each city will move on to compete in the championship round, which takes place February 9-11 in Chicago, IL.
"We are thrilled that we have the opportunity to bring Grease & Gears Garage to IMS for the 2017-18 tour. This is an important time in custom motorcycling and to be able to showcase some of the most talented Motorcycle Builders and Wrenches across the country on an educational and entertaining platform is exciting for the industry as a whole. We hope that by offering these live demonstrations and tutorials we will give new and experienced motorcyclists not only the knowledge, but the excitement that comes along with doing it yourself," said Chris Callen, editor-in-chief and publisher, Cycle Source Magazine.
The 2017-2018 Progressive® IMS tour kicks off at the Long Beach Convention Center in Long Beach, CA on November 17, 2017. To learn more about the IMS tour, see the full tour schedule and purchase tickets, please visit motorcycleshows.com.