By Jeff Najar
The jet touched down at 7PM on Thursday at the Miami Beach airport. I grabbed a cab for the Cadillac Courtyard by Marriott in North Beach, Florida. In 40 minutes I was sitting pool side with a glass of Jack listening to waves crash the surf in high 70 degree weather. Ahh, nothing better than the warmth of South Florida.
The first thing Friday morning I clicked on FOX News. They had co-anchors that looked like Barbie twins. The only way to tell them apart was one was blonde and the other brunette. The Teflon news babes were bright and shiny and read the news like a red carpet update from Hollywood. The weather girl wore a short hoochie-momma dress that accented her ample posterior and hour glass figure. South Florida has a certain feel all to its own.
Video Update: Miami Custom Bike Show

By 7:30AM I was on station and ready to meet check-in builders for the J&P Cycles Ultimate Builder Custom Bike Show. For the first 3 hours I only heard crickets. It turns out that in South Florida, if your show load-in is from 8AM to noon, everyone comes in at noon.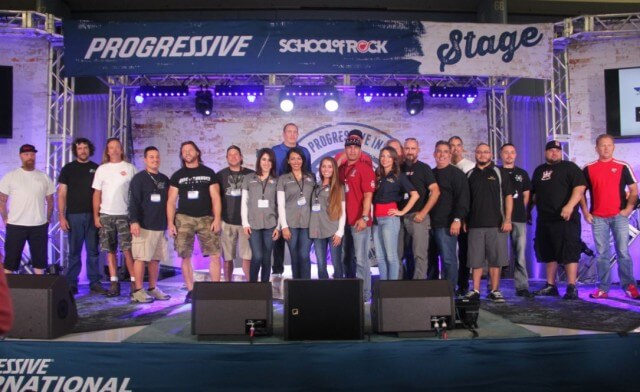 Florida builders including Warren Lane, Phil Cerulli, Todd Anglani, Scott Kietzmann, Bill Dodge and Eric Allard converged on the 1st annual Miami edition of Ultimate Builder to determine the top-dog custom builder. The competition kicked off on Friday afternoon in the heart of South Beach at the Miami Beach Convention Center.
The bikes looked outstanding with the FreeStyle class featuring 12 exceptional bikes. Each bike had a story to tell. The most poignant story came from Bill Dodge. His bike, Egret, was a tribute bike to the late producer of the Easyriders Bike Show Tour, John Green. The bike got its name after an Egret slammed into his pickup on his way back from the painters. He turned the truck around and went back to his painter, Willie, and had it repainted from blue to Egret white.
The awards ceremony kicked off on Sunday at 4PM with Progressive Insurance's Pat Jansen kicking off the show. The first award handed out was People's Choice award winner, Andy Abrego, for his hand-built pro street sled named Artic White. He left South Beach with a Special Ops vest from 5 Ball Racing Leathers and a Custom 500 lid from Bell Helmets.
Speaking of 5 Ball Racing Leathers, Hot Bike Magazine has a bitch'n report on the Special Ops Jacket. They reported on its boot tough and rattlesnake slick attributes… they also say the sleeves zip off and it converts into a (12) pocket vest. Nice.
The Showdog Award is for the builder that works the show floor the hardest. There were many contenders but Scott Kietzmann of Conquest Cycles had it in the bag by hiring a spokes model to assist in promoting his company and his line of custom Victory parts. For his efforts he took home The Leatherworks Inc. solo bag.
FreeStyle J&P Cycles Ultimate Builder Winner
Warren Lane of Atomic Metalsmith Inc. rolled in Zephyr. It's a handmade custom chopper featuring a stainless ribbed frame, springer front end and a slim, under the seat, oil tank. The bars were clean and the paint was off the chain. Mo Diaz of Mo's Image Customs did the paint work. His work was on every winning bike at the show. When Lane isn't build custom bikes, he buys, sells and restores antique motorcycles.
Warren Lane, Atomic Metalsmith, Inc. – Zephyr, Custom Chopper
Bill Dodge, Blings Cycle – Egret, 1952 Harley-Davidson FL
MOD Custom J&P Cycles Ultimate Builder Winner
The Big Wheel Bagger trend is going strong. And custom bikes with a 26" or larger hoop is now the norm. And in Miami, the big wheel baggers kept to script and ran the table in the MOD Custom class. On point was Miguel Galiano's Sexy King. It's a 2010 Bagger with a HHI rake kit, 26" wheel, air ride, a Harley-Davidson 103" mil built by Ariel Alfonzo of Ultimate Cycles. The paint added to the sleek effect of the bike and was applied by Mo Diaz of Mo's Image Customs. It was impressive looking bike.
Miguel Galiano, Ultimate Cycles – Sexy King, 2010 Harley-Davidson
Phil Cerulli, Stealth Cycles – Touch of Class – 2015 Street Glide
Retro MOD J&P Cycles Ultimate Builder Winner
Ray Llanes' custom 1959 Harley-Davidson FL features a 74" Panhead and updated performance through a high-lift cam and STD Heads. Warren Lane built "Contraband" and hand made the bars, controls and shifter. A 23" stainless wheel sits out front and provides a brilliant contrast to the sick paint applied by Mo Diaz of Mo's Image Customs.
Ray Llanes, Atomic Metalsmith, Inc. – Contraband, Custom Chopper
Eric Allard, FNA Custom Cycles – T120, 1968 Triumph T120
Throughout the weekend builders were interviewed in the Progressive Garage and on the Progressive stage. Enthusiasts were able to see behind the curtain and understand more about how the creative process works and what it takes to build rolling pieces of art.
Three classes and up to 30 custom bikes are presented at each of the J&P Cycle's Ultimate Builder competition. The bikes are sourced from the local builder community. So each show has a unique selection of custom bikes. The class structure includes FreeStyle, Retro MOD and MOD Custom. Vehicles entering the competition must meet the definition of a motorcycle as defined by the DMV. Retro MOD bikes are motorcycles older than 1984. Anything goes with FreeStyle bikes. You are only limited by your imagination. Bikes retaining the frame cradle and OEM engine cases are slotted into the MOD Custom class.
The Progressive International Motorcycle Shows rolls into 11 cities across the nation. The nationwide motorcycle extravaganza has something for every powersports lifestyle. Besides the nation's largest custom bike show, it's the best place to experience the latest in gear, aftermarket parts and accessories. See the all-new models from major manufacturers and enjoy rider seminars at the main stage and much, much more. The J&P Cycles Ultimate Builder Custom Bike Show is produced by custombikeshows.com.
Gallery of Pictures