Bike Time Winners
The city of Muskegon, MI celebrated the 7th Annual BIKE TIME on the July 19th weekend and saw over 90,000+ Harley-riding enthusiasts. Muskegon is located on the shores of Lake Michigan and the breezes coming off the lake provide a welcome contrast to the summer heat and sizzling bikes at the Muskegon Bike Time Extreme Custom Bike Show.
Winners from the custom bike show emerged onstage to split a $4,000 purse and products from Bell Helmet, Avon Tires, Ridewright Wheels and HelmetLok.
General Manager Clyde Whitehouse is pictured awarding the BIG checks to the winners.
Muskegon Bike Time FreeStyle Winner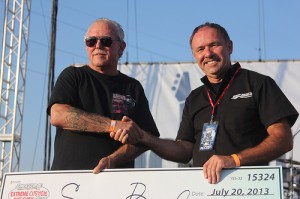 Steve Broyles from Stevenson's Cycle

Stan Grissom

Jim Robertson, Native Custom Baggers
Muskegon Bike Time Retro MOD Winner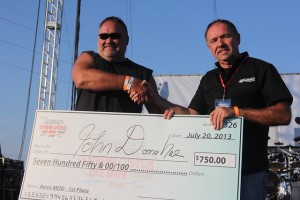 John Donahue

Paul Anderson

Stan Vandnbash
Muskegon Bike Time MOD Harley Winner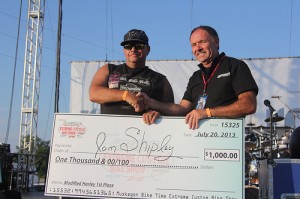 Jon Shipley from Hoosier Daddy Choppers

Brian Ratcos

Cory Edwards
Muskegon Bike Time RADICAL Bagger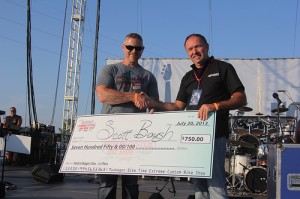 Scott Baugh

Roger Rottschafer

Hot Rod Harley-Davidson
The custom show is Saturday only at Hot Rod H-D during Muskegon Bike Time and is produced by Biker Pros and sponsored by Hot Rod Harley-Davidson, Budweiser, Great Lakes Ford, & Eagle Alloy Inc.
Photographs from the Muskegon Bike Time Extreme Custom Bike Show