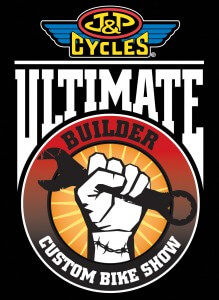 Washington, DC was an exceptional show with no less than 7 new custom bikes that made their debut at the J&P Ultimate Builder Custom Bike Show. John Dodson of Gangster Choppers, Devon Eckert of Whiskey Tango Choppers,  Karn of Karns Kustoms and Steve Garwood of Garwood Custom Cycles brought their latest creations. Enthusiasts attending the show were treated to some of the most outstanding sleds in Ultimate Builder series.

SHO DOG winners include Roy Chamberlin of C&C Cycle and Mike Davis of Speed Worx. Roy won a
Garage Leathers solo bag
and Mike won a
Rocking K Leathers
chain wallet. Two Wheel Mafia Custom Cycles took home the People's Choice Award and received a custom Bell Helmet pinstriped by Skratch.
Ultimate Builder FreeStyle Class
John Dodson of Gangster Choppers rolled four choppers into the Washington Convention Center with three of them going to the front of the hall and placed into the showcase area of the show. His fourth chopper, Low Down, entered into the competition. It's his personal chopper that was completed at 2AM the morning of the show. It's a stock 1981 Lowrider and features a 93ci Shovel, 10:1 compression, EVO oiling and .600" lift cam. The oil bag, fuel filter and pegs are all hand fabricated.

John Dodson, Gangsta Choppers – Low Down, 1981 Lowrider.
Joey Chanel, Race Response – Blood, Sweat and Gears, '79 CM400T
Ross Latimer, Rats Customs – Maverick, '01 Sportster
Ultimate Builder MOD Harley
Adam Karns is our 2013 Ultimate Builder MOD Harley National Champion. Last year he won DC and the National Championship in Indy with a custom Harley-Davidson SPrtster. Adam starts off 2014 with a win in DC with his Hooligan Chopper. It is a custom 1974 HOG  that features a 1000cc Sportster mil, mobile video and nav, split rocker boxes, molded chassis, hard tail, hydraulic clutch and hidden wires.
Adam Karns, Karns Kustoms – Hooligan, '74 Sportster
Robert  Kelley   – Black Betty , '90 Sportster
Daniel   Rodriguez, KarTunes Inc – '09 Roadglide
Ultimate Builder Retro MOD
What can you say about the young gun Devon Eckert of Whiskey Tango Choppers? He came on the scene last year and won the DC Ultimate Builder and then got a feature in The Horse Backstreet Chopper Magazine. This year he rolled into DC with Bad Reputation, a 1981 Yamaha XS650, and came away with the same results, another 1st place finish.  The Yamaha features air ride, custom seat, Pamco ignition, goose neck frame and hard tail.

Devon Eckert, Whiskey Tango Choppers – Bad Reptation, '81 XS650
Two Wheel Mafia Custom Cycles – Hott Chocolate, '80 XS650
Bill Abraovich – Sukstein, '79 Suzuki GS750
Ultimate Builder MOD Street
Steve Campbell of Street Working Class Choppers rolled in Tamaqua and rolled out the winner of the MOD Street class. The bike Jizzeppi started out life as a Suzuki GS450 and was converted into a Café Racer with hammered copper.

Steve Campbell, Working Class Choppers – Jizzeppi, Suzuki GS450
Rick Pazmino, Honda of Grofton – '10 Honda Fury
Bernie Torreyson – Cool Bu, '11 Victory Cross Country
Ultimate Builder Performance Custom
Joe Brinkley of Precision Motorcycle brought in a low 2008 Kawasaki  ZX14 that features front and back air ride  from air fx, molded in iPod with speakers, cut front fender and a  custom white alligator seat. The bike's stance is enhanced with a chrome 16 over stretched c and s swing arm.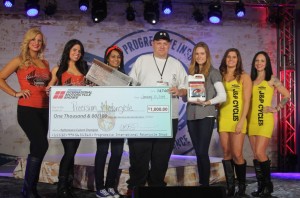 Joe Brinkley, Precision Motorcycle – '08 ZX14
Garwood Custom Cycles – Apocalypse, 2000 Suzuki Hayabusa
Shane Hull, Custom Rocketz – Vintage, '94 Suzuki 1100
Ultimate Builder Photography