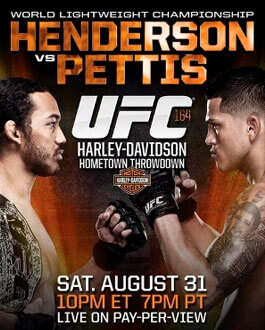 Harley-Davidson is bringing the UFC Octagon into the mix of events for its year-long 110th Anniversary Celebration that spans 11 countries on six continents.
The Ultimate Fighting Championship returns to the BMO Harris Bradley Center in Milwaukee on Saturday, Aug. 31st with the UFC® 164 Harley-Davidson Hometown Throwdown as part of the Harley-Davidson 110thanniversary celebration. This action-packed card will feature some of the UFC's best athletes and more than 10 hard-hitting bouts.
Tickets for  UFC®164 HARLEY-DAVIDSON HOMETOWN THROWDOWN: HENDERSON vs. PETTIS , are now on sale and are priced at $400, $300, $200, $150, $90 and $60.
Tickets are available at all Ticketmaster locations. Ticket sales are limited to eight (8) per person. To charge by phone with a major credit card, call Ticketmaster at (800) 745-3000. Tickets also are available for purchase atwww.ticketmaster.com. Ticket prices do not include applicable service charges.
UFC 164 will feature a stacked lineup with bouts that carry title implications:
The lineup of events and performances for the Milwaukee, Wisconsin stop is top-notch. The complete event runs from Thursday, August 29th, 2013 through Sunday, September 1st, 2013.
The total experience, if you wanted to catch all of the concerts, the celebration parties and the Harley Davidson Museum, will set you back just shy of $200.
Here's a quick rundown of what your weekend in Milwaukee might look like:
Thursday:

With your ticket purchase to the 110th Anniversary Celebration, you get access to the Summerfest Grounds which include over 60 bands. Thursday performances include Skynyrd (4pm, H.O.G. members only), Blue Oyster Cult (6pm), and over 20 others. On top of all that, you get a load of shwag. For an extra $20, you get to catch Toby Keith live.

Friday:

There's also a great lineup for Friday, including Sublime, North Mississippi Allstars, and for the hip hop fans, Common, Nappy Roots and others. An additional $24.50 will get you into the Aerosmith concert.

Saturday:

You are going to have quite a hard time picking and choosing what events to attend. Not only do you have dozens of bands competing for your attention, you also have both Kid Rock and ZZ Top performing in the evening. And by all means, do not forget that UFC 164 will be in the house (BMO Harris Bradley Center). 

Sunday: Check out the museum, pack up and call it.
This is going to be an amazing event to close out the U.S. side of an awesome 110th Anniversary Celebration.