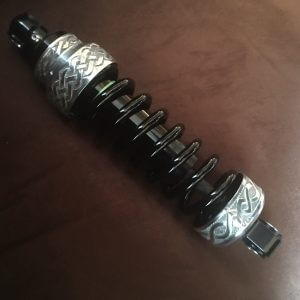 Silent Auction: Custom Shock Jewelry by New-line Engraving and Suspension Technologies
The Flying Piston Builder's Breakfast is a fund raiser with the proceeds going to vets with PTSD. The breakfast kicks off the first Sunday of the Sturgis rally on August 6th at 9:30am in the Buffalo Chip.
A silent auction produces the greatest part of the fund raising efforts. This year we have something special from New-line Engraving and Suspension Technologies shocks.
I spoke with Canadian Heather New of New-line Engraving about engraving a set of shock rings and cups using Byzantine architecture, Greek mythology, and ancient Greek art as an inspiration. She made the midnight black shocks really pop.
Heather makes it sound easy.
Start with clean & bare metal.

Paint the rings and cups white, then draw directly onto the piece.

Make deep cuts around design.

Remove the background and apply gun blue. (This turns the entire piece black)

Polish the finished pieces / The textured background remains black.
Working with Heather is a snap. Send the part to be engraved stripped and without chrome. Artwork is done after pieces are received, and just prior to engraving.
Standard turnaround time is 6-8 weeks; however, that can change depending on her current work load and of course, she is easily bribed with chocolate.
So if you are in Sturgis on Sunday at 9:30AM, stop on by the Buffalo Chip to help a vet and fuel up with some people fuel.