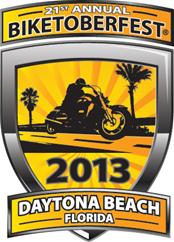 The Sunshine and Blue Sky Update

Reports are coming in from Daytona Beach Biketoberfest that the attendance numbers from the event are still depressed. Traffic has been down since 2004.
The areas in Daytona that are receiving the majority of the rolling traffic are the traditional biker areas on Main Street, Beach Street, Daytona 500 racetrack, Mid-Town in Daytona Beach and Bruce Rossmeyer's Destination Daytona in Ormond Beach.
The Custom Bike Show Kickoff in Daytona
Willie's Tropical Tattoo Old School Chopper Show kicks off the week of custom bike shows and serves as a showcase for good ol' American ingenuity. [Read more…]