The 2016 Kustom Kulture Artisan Show at OC Bikefest kicked off with killer custom bikes built by some of the nation's top regional Eastern talent, combined with 3-days of a hard-charging music festival which included 3 Doors Down, Candlebox, KIX, Pop Evil and Styx.

OC Bikefest brought in celebs including Michele Smith, an actress and model and most commonly known as the hostess on the TV show American Thunder, and Mikey Teutul of OCC. He was hanging out at the Kustom Show selling his Mikey for President t-shirts and named his running mate, Evan Favaro of Speakeasy Motors, for the coveted office.

Pat Jansen, EMCEE for the Kustom Show, was interviewed by the local Rock Station about the Kustom show and specifically the 700HP trike that goes from zero to 100 in 4.5 seconds.
When asked about the amount of Jack Daniels that was required in the build, he commented,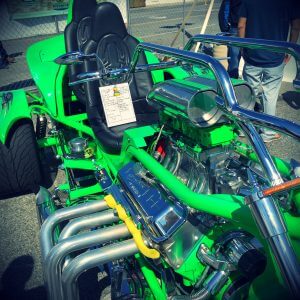 "It's such an outrageous, electric green trike, not only did it require Jack Daniels, but a lot of cocaine and maybe a few pharmaceuticals were needed as well. "
Drum roll please… The show had 11 winners. Jon Shipley of Hoosier Daddy Choppers took the FreeStyle Class win and is our Kustom Kulture Artisan Show representative of the Championship of Americas at the AIMExpo competition in October 2016. If he wins in Orlando, he will receive an all-expense paid trip for himself and his bike to Germany for the AMD World Championship in 2018.
The Kustom Kulture Artisan Show provides a competition class for three of the most popular and innovative custom classes including FreeStyle, Custom Retro and Custom Street classes. Freestyle is an anything-goes class, while the Retro Class features bikes that are older than 1984 and Custom Street is the stock class that requires stock engine cases and frame cradle.
Kustom Kulture Artisan Show – FreeStyle Class
1. Jon Shipley, Hoosier Daddy Choppers – Winner $1,000
2. Evan Favaro, Speakeasy Motors – 2nd Place $500
Kustom Kulture Artisan Show – Custom Street
1. Roy Chamberlin, C&C Cycles – Winner $1,000
2. Cory, Hellbent Creations – 2nd Place $500
Kustom Kulture Artisan Show – Custom Retro
1. Dennis Crabtree – Winner $1,000
2. Dr. Paul Andrecola – 2nd Place $500
Additional Kustom Kulture Artisan Show Awards
People's Choice – Rodney Smith, Southeastern Customs
Best Booth – Adam Karns, Karns Kustoms
SHO-DOG Award – Rodney Smith, Southeastern Customs
Best Paint Award – Roy Chamberlin, C&C Cycles
The HorseBackstreet Choppers Magazine Editor's Choice – Rich Worley, American Biker
Riding a motorcycle isn't just a hobby, it's a way of life for many, and Ocean City Bike Week celebrates the lifestyle each fall.
Coinciding simultaneously with the annual Delmarva Bike Week, which is currently in its 16th year and brings upwards of 175,000 bikers to the lower Eastern Shore, the Ocean City Bike Fest is celebrating its sixth year.
Ocean City Bike Week brings bikers to the beach for a final summer blowout. The endless rumble of engines and scent of exhaust fumes fills Ocean City, as bikers make their way south towards the inlet.
Gallery of Kustom Kulture Artisan Show at 2016 OC Bikefest