Dave AKA "King of Flames" and Jody Perewitz added a whole new dimension to the custom motorcycle scene a couple years back when they unleashed the first Perewitz Custom Paint Show during Bike Week in Daytona.
If you have a custom paint job on your motorcycle enter our show to win a custom paint trophy and tons of swag! You won't want to miss it. If you ride a stock bike, stop by Destination during Bike Week to see the custom paint at our show!
Destination Daytona
Registration 11AM – 2PM
Awards at 4PM
Wednesday, March 15
What could be better than to get an award for your bikes paint from the master himself and in Daytona to boot!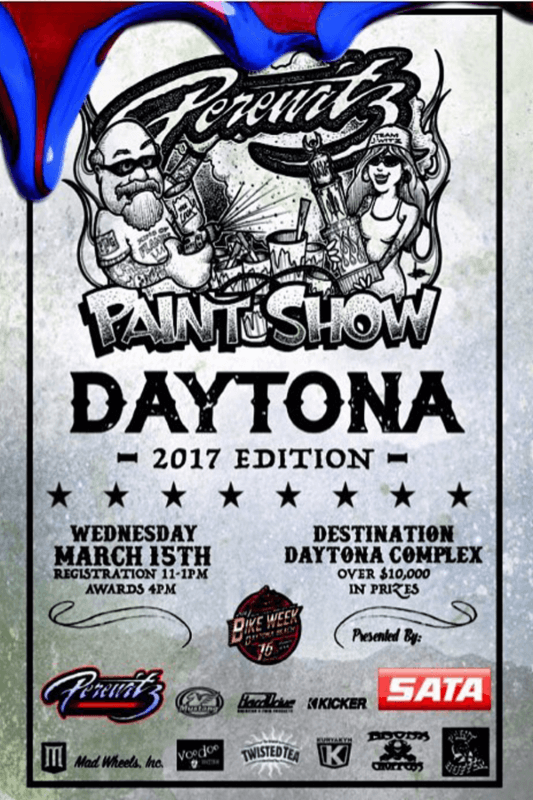 The Custom Paint Show organized by Dave and daughter Jody Perewitz is open to all bike brands, models on 2 and 3 wheels, with only the quality of paint work being judged and not the motorcycle itself. The event always features a very wide variety paint styles competing in different classes with the judging being performed by a selection of professional painters.
Best of show walks off with a unique piece of fine motorcycle art by Rally Fine Art valued at $1,000 and a feature article in Airbrush Action Magazine. First place will be presented with one of Perewitz very exclusive and highly prized, custom painted trophies along with other substantial goodies "swag". Second and third place winners will be awarded with canvas art along with their own swag. In total the amount of prizes to be presented is valued at well over $10,000.
The 2017 Perewitz Custom Paint Show will once again be held at The Pavilion at Destination Daytona on March 15 . Address is 1637 North Highway US1 – Ormond Beach, FL 32174. Show registration from 10 am-1 pm with awards being presented at 4 pm.