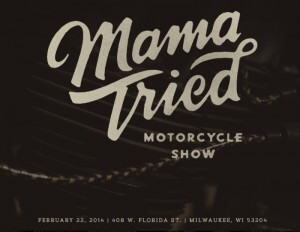 The title of a 1968 Merle Haggard song about rebellious youth, "Mama Tried," has become widely used in biker circles referring to the notion that most mothers just don't want their kids to ride motorcycles.
The Milwaukee-invitational features motorcycles of various vintages, including flat trackers, hill climbers and choppers built by a diverse group of fabricators from the Midwest with some from as far as California, New Mexico, Texas, New Jersey and New York.
Mama Tried showcases the most honest, home-built and unusual bikes in the Midwest. Part of the attraction of the Mama Tried Motorcycle Show is the chance to see motorcycles that usually aren't on display to the public.
"No one really gets to see competition bikes much," said Scott Johnson, who owns Fuel Cafe and other restaurants in Milwaukee. "Unless you're involved in that scene, you never really get to see that stuff. There's a lot of really amazing craftsmanship that goes into them."
Click here for pictures from Instagram.
In addition to motorcycles, visitors can see displays of motorcycle photography and graphic arts at the Iron Horse Hotel. They are playing host to a slide presentation of motorcycle photographer Michael Lichter's photos from 10 to 11 a.m. Sunday during the hotel's Route 66-themed brunch.
THE 2015 MAMA TRIED BUILDERS
AJ DUSEK, CHICAGO, IL
AL BLOOM, SCHAUMBURG, IL
ALAN STULBERG, REVIVAL, AUSTIN, TX
ANDY FENWICK, METRO MOTORS, NEENAH, WI
ART FARLEY, LAKE CHELSEA, MI
ATOMIC CUSTOMS, TRENT SCHARA, EDGEWOOD, NM
BARE KNUCKLE CHOPPERS, PAUL WIDEMAN, HAWK POINT, MO
PAT HANSON, BBC, WEST BEND, WI
BEN BOYLE, BENDERWERKS, ATLANTA, CA
BEN MARX, MILWAUKEE, WI
BILL RODENCAL, WAUKESHA, WI
BOBBY "THE LEG" MIDDLETON, KING CUSTOMS, LOMBARSD, IL
BRANDON CASQUILO, MULLINS CHAIN DRIVE, RICHMOND, CA
BRANDON HOLSTEIN, SIGNAL HILL, CA
BRIAN BUSCEMI, AUSTIN, TX
BRIAN ELLIOT, BLACK SUNSHINE, MACON, IL
BRIAN "JUNIOR" COMBS, LA PORTE, IN
BRIAN HARLOW, BRAVETOWN, CHICAGO, IL
BRUCE WYKE, HARRISON, OH
CHARLIE SCHROEPFER, COMPETITION CYCLES, BUTLER, WI
CHRIS BRAND, MADISON, WI
CHRIS GRAVES, MILWAUKEE, WI
CHRIS MILANOWSKI, MILWAUKEE, WI
CHIRAG "ROCCO" AMIN, LAKELAND, FL
CRAZY JIM CAMPBELL, MILWAUKEE, WI
CYCLE CRAFT, MARK PIEKOS, WOODSTOCK, IL
DAN "BACON" CARR, SPICEWOOD, TX
DAN RONSVOG, FRANKSVILLE, WI
DAN YODER, MADISON, WI
DANA DEAMANN, THE VALLEY, MILWAUKEE, WI
DANIEL PETER, CHICAGO, IL
DANNY HOLBUS, STURTEVANT, WI
DARRYLE DEKEYSER, DEFOREST, WI
DAVE COOK, COOK CUSTOMS, FREDONIA, WI
DAVE HERR, BLOOMINGTON, IN
DAVE KOLLMAN, KOLLMAN MOTOR WORKS, WATERFORD, WI
DAVE POLGREEN, LONG BEACH, CA
DAVE SPANJAR, BBC, MILWAUKEE, WI
DAVE SWANSON, ROCKFORD, IL
DENNIS WORTHY, FRANKLIN, WI
DYNAMITE JOE KERIVAM, HUNTINGTON BEACH, CA
ED ZENDER, RINGWOOD, IL
GRANT PETERSON, FREEDOM & MACHINERY, ORANGE, CA
HAINTS, BIRMINGHAM, AL
HARPOON, WALNUT, FREEDOM & MACHINERY, CA
HEATH REED, RIVER RAT RACING, DAVENPORT, IA
ICON MOTORCYCLE, PORTLAND, OR
IVAN SNODGRASS, LOUISVILLE, KY
JASON ((ATR)) WEBBER, ANAHEIM, CA
JASON MOORE, WASHINGTON COURT HOUSE, OH
JASON ROBSON, BLOOD CREEK, JAFFREY, NH
JEFF LEIGHTON, WRETCHED HIVE, ORANGE, CA
JEFF REIDEL, RACINE, WI
JEFF WRIGHT, CHURCH OF CHOPPER, DES MOINES, IA
JERIMIAH SMITH, BRAVETOWN, CHICAGO, IL
JIM GAERTNER, MILWAUKEE, WI
JOHN EDWARDS, OLD TYME CUSTOM PAINT, GARDEN GROVE, CA
JOHNNIE KOLLER, DOUSMAN, WI
JOHN CUMMINGS, PROSPECT HEIGHTS, IL
JON DAVIDSON, JACKSON, WI
JON RALEIGH, THE VALLEY, MILWAUKEE, WI
JORDAN DICKINSON, UNION SPEED SHOP, MONTICELLO, MN
JOSH BARRAZA, MADISON, WI
JUSTIN HALLENBECK, LAKEWOOD, CO
KARA PIERCE AND DAVE MUCCI, MILWAUKEE, WI
KEINO CYCLES, BROOKLYN, NY
KEN "PA" BAAS, MUSKEGO, WI
KEVIN "TEACH" BAAS, VINTAGE BIKE ADDICTION, PRIOR LAKE, MN
KIM BOYLE, BOYLE CUSTOM MOTO, CARLSBAD, CA
KRIS KLEIN, LE MARS, IA
KRIS ZELLMAN, MILWAUKEE, WI
LARRY PIERCE, GARAGE COMPANY CO, COLUMBIANA, AL
LED SLED PAT PATTERSON, DAYTON, OH
LIL SCOTT'S CUSTOMS, STURTEVANT, WI
"MAJIK" MIKE RABIDEAU, RACINE, WI
MARK HEWITT, BRAVETOWN, CHICAGO, IL
MATT WALKSLER, WAYNESVILLE, NC
MELDON VAN RIPER STULTZ III, THE RACE OF GENTLEMEN, NEPTUNE, NJ
MICHAEL GELTZ, FLYING WEASEL, KEOKUK, IA
MIKE DAVIS, BORN LOSER, SANTA ANA, CA
MICHAEL LANGE, BIG BEND, WI
MIKE SALAIZ, ROCKDALE, IL
PATRICK ZEIGLE, PRIMORIDIAL CYCLES, MADISON, WI
PAUL PONKOW, BONE LEGACY, HENDERSON, NV
PETE MASON, ST. PAUL, MN
RICH PHILLIPS, RICH PHILLIPS LEATHER, ST. CHARLES, MO
RICK PETKO
RICKY REYES, KANSAS CITY, KS
RANDY SCHMITT, REDWOOD CYCLE, CEDAR RAPIDS, IA
ROD GRIMME, STRIPPED DOWN CYCLES, DUBOIS, IL
RYAN GROSSMAN, MARTINEZ, CA
RYAN HOFER, OLD 57′ GARAGE, SOUTH MINOT, ND
RYAN NOLAN, ELYRIA, OH
RYAN SMITH, THE VALLEY, MILWAUKEE, WI
SHAWN DONAHUE, BRONSONVILLE, POMONA, CA
SLIM'S FAB, NUEVO, CA
SPEEDMETAL DAVE BARKER, ENGLEWOOD, CO
SHAUN AND AARON GUARDADO, LONG BEACH, CA
SCOTT "T-BONE" JONES, NOISE CYCLES, SANTA ANA, CA
TC CHRISTIANSON, SUNSET CYCLE, KENOSHA, WI
TERRY VESTAL, TWIN LAKES, WI
TIM SCHNIEDER(THE SHOP)(2)
TODD JOHNSON
TONY GIORNO, REDLINE CYCLES, KENOSHA, WI
TONY PRUST, ANALOG, GURNEE, IL
TYLER MALINKY, LOWBROW, MEDINA, OH
TYLOR SKODRAS, SUSSEX, WI
VAUGHN MAYS, LAKE GENEVA, WI
VISIONARY CYCLES, SEAFORD, NY
WADE MUELLER, MILWAUKEE, WI
WALT GEMEINHARDT, KICKSTART CYCLE, FAIR LAWN, NJ
WARREN HEIR, PABST BREWING CUSTOM BUILD, MILWAUKEE, WI
WILLIE G DAVIDSON, MILWAUKEE, WI
ZACH DOOM, HEAVY, ST. PAUL, MN