Paint Slinger Shootout Winner: Scott Holbrook Awards Kacey Elkins of Krossover Customs
After months of work, hours of taping and many late nights, Kacey Elkins of Krossover Customs came away with the win of the 2017 Paint Slinger Shootout Award.
The Stanford, Kentucky native made it to the "TOP 5" and then Scott Holbrook from Simpson Helmets selected Elkins for the win because of his clean and innovative design.
The TOP 5 competitors include:
Simpson Helmets will work with Elkins to create custom lid design that will become a limited edition run of 400 helmets.
To kick off the party, Simpson provided (20) M30 helmets to be painted up by artists from across the country. They were featured at the OC BIKEFEST and Cherokee Blue Ridge Run before entering the crucible of the Championship of the Americas show area.
A VIP panel of judges as well as People's Choice votes cut the field down to the TOP 5. Simpson then selected their winning artist from the best-of-the-best. Kacey Elkins of Krossover Customs recieves:
$1,000 award
6 Lids with his design
A trip to Born Free to autograph his helmet
"We worked with painters from across the country and are excited about the reception of the helmets at each stop of the custom shows", said Jeff Najar, Biker Pros Partner. "We assembled a group of creative artists that really delivered designs off-the-chain."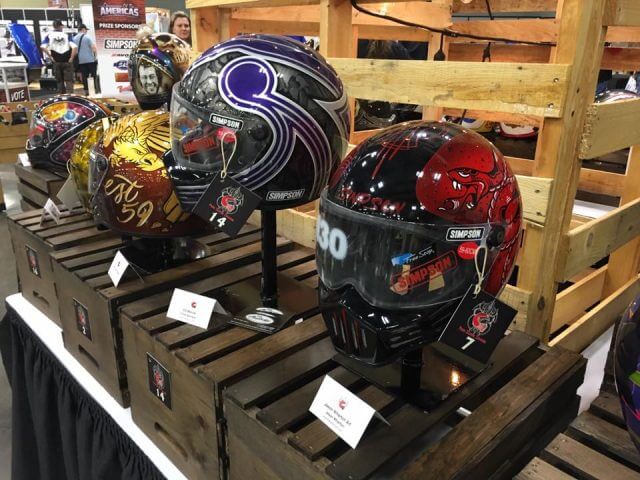 About Biker Pros
Biker Pros provides publicity, event managment, marketing and promotions to the Powersports Industry. For more details, logon to custombikeshows.com
About American International Motorcycle Expo presented by Nationwide
The American International Motorcycle Expo presented by Nationwide (www.aimexpousa.com) was created to serve as the catalyst to bring together industry, press, dealers and consumers in a single arena that creates a grand stage for motorcycling and powersports in the U.S. and North America, and delivers an efficient and energetic market-timed expo platform for B2B and B2C in the greater powersports industry. AIMExpo presented by Nationwide is the single most important event of its type in the North American market and has international impact within the motorcycling and powersports community. AIMExpo presented by Nationwide is produced by the Motorcycle Industry Council (www.mic.org).
About the Motorcycle Industry Council
The Motorcycle Industry Council exists to preserve, protect and promote motorcycling through government relations, communications and media relations, statistics and research, aftermarket programs, development of data communications standards, activities surrounding technical and regulatory issues, and the American International Motorcycle Expo presented by Nationwide. As a not-for-profit, national industry association, the MIC seeks to support motorcyclists by representing manufacturers, distributors, dealers and retailers of motorcycles, scooters, ATVs, ROVs, motorcycle/ATV/ROV parts, accessories and related goods and services, and members of allied trades such as insurance, finance and investment companies, media companies and consultants.
The MIC is headquartered in Irvine, California, with a government relations office in metropolitan Washington, D.C. First called the MIC in 1970, the organization has been in operation since 1914. Visit the MIC at www.mic.org.