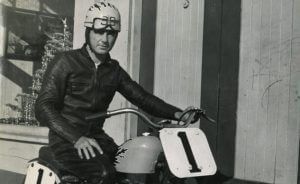 Joe Leonard passed away on April 27, 2017 in a San Jose, California, nursing home at the age of 84. A three-time AMA Grand National champion, he was inducted into the Motorsports Hall of Fame of America in 1991 and in 1998 he was inducted into the AMA Motorcycle Hall of Fame.
Leonard's racing accomplishments were extremely rare, as the San Diego native won national championships on both two and four wheels.
He drove for Dan Gurney, A.J. Foyt and Parnelli Jones and earned the respect of anyone who raced against him or watched him race.
Leonard made an impressive transition from motorcycles to Indy cars that dazzled those three open-wheel legends.
"I can't think of anyone who was any better," said Dan Gurney, who gave Leonard his initial ride at Indianapolis in 1965. "I mean he was on the Super Team and beat Big Al [Unser] and Mario [Andretti] over and over, so that should tell you something."
AMA. Grand National Championship Series in 1954, its inaugural year, and won it again in 1956 and 1957. His record totals 27 wins, including the 1957 and 1958 Daytona 200. He also resulted vice-champio, runner-up, in 1958, 1960 and 1961, third in 1955, and fifth in 1959.
Leonard retired from two-wheel racing at the end of the 1961 season and turned his attention to car racing, winning the USAC Champ Car series in 1971 and '72.
Leonard made nine consecutive starts in the Indianapolis 500 between 1965 and '73, finishing third in both '67 and '72. But it was arguably his '68 performance for which he'll best be remembered at the Speedway. In the Lotus 56 turbine, with which he'd taken pole position, he suffered a fate similarly cruel to Parnelli Jones in the original STP Paxton turbine car a year earlier, the Lotus grinding to a halt while Leonard was leading with fewer than 10 laps to go.
Leonard won six USAC National Championship Indy car races during his career, including three at Milwaukee and one at Michigan International Speedway, plus the second running of the Ontario (California) 500 in 1971 and the second running of the Pocono (Pennsylvania) 500 in 1972.
He also finished in third place at Indy in 1969 and 1972. After suffering crippling leg and ankle injuries at Ontario in the spring of 1974 and being unable to pass the physical for a comeback, he retired in 1975.
Leonard's passing closely follows the death of another motorsports legend, John Surtees, who was the only racer to have won world championships on motorcycles and cars.