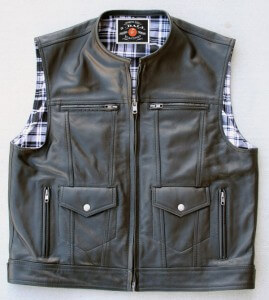 Winner Receives Special Ops Vest
The winner of the People's Choice Award at the OC Bikefest Custom Bike Show by CIA is awarded a 5 Ball Racing Leathers' Special Ops Club Vest.
"We are excited to be a part of the OC Bikefest Custom Bike Show by CIA because it is one of the fastest growing bike shows on the East Coast," said Keith "Bandit" Ball, Leather Evangelist and Boss at Bikernet.com.
The Special Ops Club Vest is designed to accommodate the needs of riders who want to carry their personal items with them. The outside features 4 zipped pockets and 2 waist pockets. The inside features 2 conceal and carry snap pockets, 2 zipper pockets and 2 credential pockets.
"We have enough pockets so that everything has a place and every place has something critical for the ride," explained Bandit. "The outside waist pocket is deep enough to use to secure your cell phone while using it on the go as a GPS device."
The 5 Ball Racing Leathers line, designed for motorcycle riders, offers plenty of storage and protection and comes equipped with one or two gun pockets, depending on the style. The 5 Ball Racing Leathers team have over 100 years of riding experience between them, and they know what riders need and want. They have integrated their very best ideas into the line. Click here to see the entire line of leather at J&P Cycles.
About 5-Ball Racing Leathers
Keith "Bandit" Ball, Bikernet.com President, and Bob Kay, Biker Pros Partner, designed a line of Genuine Riding Apparel™ for cruiser, chopper and bobber riders. The shirts, jackets and vests are known for their innovation, functionality and quality craftsmanship.