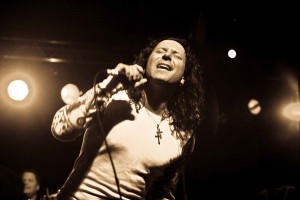 Two Tickets To Paradise – That's right, when you enter your motorcycle into the Muskegon Bike Time Extreme Custom Bike Show sponsored by Hot Rod Harley-Davidson and Budweiser on Saturday July 20, 2013 you receive two passes to the Steve Augeri concert for you and your friend. Steve Augeri is an American rock singer best known as the lead vocalist for the rock group Journey from 1998 to 2006. Augeri recorded three albums during a successful eight-year tenure with the group that brought one of the world's most accomplished rock groups back to the stage to perform for their millions of fans worldwide.
But wait, there is more. We are giving away $4,000 in cash prizes. Get the details on the show by making the jump.
It's Time for Bike Time…It's all about the bikes and the huge crowd attending loves the fun of cruising on Steel Horse Alley, checking out the tens of thousands of bikes parked along the way – each customized to the personal taste of its owner.
Over 35,000 bikes (with 38 states and Canada represented) and 90,000 people visited the lakeshore community of Muskegon, Michigan for the event in 2012. America's Fastest Growing Bike Event, the ultimate Steel Horse Nationals will again ROCK FOR 2013!
2 Tickets to the Concert
Steel Horse Station (Hot Rod Harley-Davidson Stage) is headlined by Steve Augeri, former lead singer of Journey. Augeri performed as lead vocalist for Journey from 1998 to 2006. He recorded three albums during a successful eight-year tenure that brought the world's most accomplished melodic rock group back to the stage for multiple world tours before millions of fans. At present, Augeri is set to release his long-awaited first solo album to be followed closely by a world tour that will showcase material from his career and feature a talented new group of musicians. Expect Steve to thrill the Muskegon Bike Time crowd with new material and Journey favorites like "Don't Stop Believin'", "Anyway You Want It", and "Wheel In the Sky".