You don't have to ride a V-twin motorcycle to appreciate the artistry and craftsmanship that goes into each of the custom builds at the Grand National Roadster Show.
Now in its 68th year and once known as the Oakland Roadster Show, it's the longest running indoor car show in the world. Produced at the Fairplex in Pomona for the 14th consecutive year. Over 500 show vehicles competed for awards inside the Fairplex buildings.

This premier event feature hundreds of the best hot rods, customs, muscle cars, motorcycles, street machines and classic trucks found anywhere in the world.
Hot rod builder Chip Foose takes a break from four wheels to build this year's America's Most Beautiful Motorcycle at the 2017 Grand National Roadster Show.
The Big Trophy Winner – 2017 Grand National Roadster
This year the trophy went to "Xpression," a 2016 custom from Chip Foose Design and Reister's Rod Shop. The bike is a one-off custom that took 4,835 man-hours to build with no less than 596 custom-fabricated parts.

Jeff Leighton (Orange, CA) brought his killer 1942 UL flathead Big Twin.
Designer/builder Masao Inoue of Revolt Custom Cycles shop came from Osaka, Japan
A 1953 custom 1450cc Panhead named Trident. The paint reflects its ocean theme in the wave-like elements as well as the anchor-shaped sissy bar, oil tank integrated into the rear fender plus metal fab and chroming.
NORCAL Custom Builder Dalton Walker's 1951 Triumph and its C-Cab hauler
Custom 1936 Packard Named "America's Most Beautiful Roadster" at 2017 Grand National Roadster Show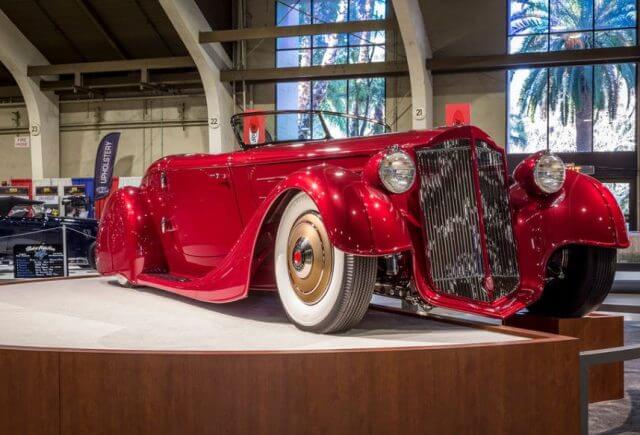 This shapely, roadster was built by Troy Ladd of Hollywood Hot Rods. The "Mulholland Speedster" cuts quite a dramatic figure. Aside from the Packard wheels and the grille, the hot rod has little in common with the 401 Coupe it started out as. Not only is the bodywork completely custom, so is the hand-built frame underneath.
In addition to being named "America's Most Beautiful Roadster," the Mulholland Speedster is now part of the famed "perpetual trophy" that carries the name of the car and builder from each year.
Informaiton Sourced
Motorcyclistonline.com
Motorcycle.com
Grand National Roadster SHow
Photo: Brian Hatano