Grassroots racing gets sticky (Dr. Pepper) and brings out over 10,000 fans to watch a bunch of motorcycles turn left on an oval concrete track for bragging rights at the Flat Out Friday races.
The racing was fast and furious at a new location, The BMO Harris Bradley Center, home of the pro Basketball team, The Milwaukee Bucks.

This indoor Dr. Pepper syrup soaked oval concrete track is in the heart of blue collar America, Milwaukee, at The BMO Harris Bradley Center.
TOP FINISHES – Flat Out Friday's Mama Tried Results
Benny Carlson (#45) XR1200
Andy DiBrino (#14) XG750
Terry Vestal (#27) Sportster
Over 220 racers showed up from as far as Tokyo to compete in 11 classes which included the AMA 450 Pro class that had over $15,000 in prize money up for grabs in the Charlotte Kainz Memorial Race.
The 10 other classes included Super Hooligan, Open Amateur, Four Stroke, Brakeless, Youth 85, Open Vintage, Inappropriate, Boonies, Bultaco and two new race classes including Women's and Z125 / Grom.
That's all impressive but perhaps what's even more impressive is that fact that the ages of the racers ranged from 7 years old to 75 years old, making this sport the only one of its kind, bridging the gap between type and age of motorcycle rider all in one event.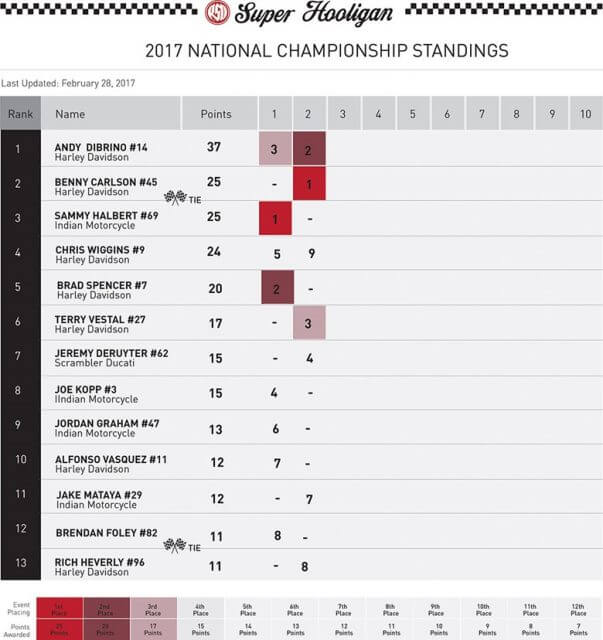 About Super Hooligan Championship Series
Roland Sands Design is proud to bring America the thrills and spills of Street Bike Flat Track Racing, with the 2017 Super Hooligan Championship Series. We've selected the best events in the country to be part of the series, which aims to establish the frightening, yet rewarding craft of piloting street bikes at break-neck speeds around dirt tracks. The riders are the stars and comprised of a unique and diverse background of every type of racer, from Pro Flat Trackers and Road Racers to retired washed up Champions, as well as everyday Joes and Stunt and Motocross riders. It's a no-holds-barred battle to the stripe on 500 lbs. of fury. With races across the country ranging from specialty bike shows and concerts to pro American Flat Track events and beach-side racing, the diversity promises a unique experience at each event. Watch Out America… this is Super Hooligan!
| | |
| --- | --- |
| Date | Event |
| Feb 12 | The 1 Pro – Salem, OR |
| Feb 17 | Mama Tried's Flat Out Friday – Milwaukee Wisconsin |
| March 25 | American Flat Track GNC – Dixie Speedway, Woodstock, GA |
| April 22 | Hippy Killer Ho Down – Perris, CA |
| June TBD | Costa Mesa Super Hooligan Night – Costa Mesa, CA  |
| July 22 & 23 | Dirt Quake – Portland, OR  |
| August 9 | Buffalo Chip TT – Sturgis, SD |
| August TBD | Wheels and Waves Invitational – Cayucos, CA |
| October 7 | American Flat Track GNC – Perris, CA |
| October 14 & 15 | Bolsa Chica Banzai – Bolsa Chica State Beach, CA |