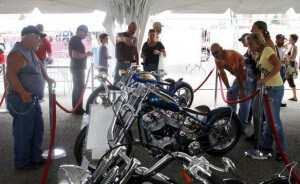 Source: MLive Media Group
By Josh VanDyke | JVANDYKE@MLIVE.COM
on July 21, 2013 at 7:51 AM
MUSKEGON, MI – Those who attended the Hot Bike, Baggers & Street Choppers Bike Show got an opportunity to see some special, custom motorcycles Saturday at Muskegon Bike Time.
According to the judges, one of the best custom bikes on display was Jon Shipley's 2013 Firehouse Race. His motorcycle won the Modified Harley category and earned Shipley a spot in a upcoming event at the Harley Davidson Museum in Milwaukee, Wisc.
Shipley's bike and the others entered in the competition drew plenty of on-lookers to the Hot Rod Harley-Davidson location in downtown Muskegon. The Hot Bike, Baggers & Street Choppers Bike Show is one of the signature events of Bike Time.
Shipley, who won the Milwaukee event last year, received an automatic bid to the AMD Invitational Custom Bike Show on Sept. 1 at the Harley Davidson Museum with his victory Saturday at Bike Time. The winner of the Milwaukee event will go on as the U.S. representative in the World Championships on April 11-13 in Germany.
Click here for the entire article.