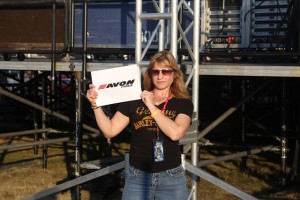 Avon Tyres Awards 2 Sets of Donuts
AVON Tyres awarded 2 sets of donuts to builders at the Muskegon Bike Time Extreme Custom Bike Show. The builders that won the awards are:
FreeStyle – 2nd Place – Stan Grissom

Radical Bagger – 2nd Place – Roger Rottschafer

Click here to review the Muskegon Bike Time winners.
About Avon Tyres
Avon Venom tires features a unique sequential pattern that produces an exceptionally quiet ride with advanced casing technology that delivers a low rolling resistance, reduced tire heat and high mileage wear. Venom's are available with a narrow or wide whitewall design. Depending upon selection, tires are for speeds up to 149 mph.

With its unique snakeskin sidewalls, an aggressive tread pattern and low noise emission the Cobra silently defeats all roads that stand in its path.
A-VBD – Advanced-Variable Density Belt – improves handling in the much wider Cobra sizes. This construction technology utilizes a jointless belt of ultra-strong material. Above the carcass, these strands are wound closely together at the tire's cent for increased stability and wear resistance. Towards the tire's edges the fibers are then progressively spaced out to allow the tire to take on a multi-compound effect as the tire leans. An aggressive tread pattern features FFG – Force Following Grooves – to follow the exact direction of forces that are transferred through the tire. These channels in the tire's surface significantly reduce irregular and advanced wear on bikes that carry heavy loads.
Each Cobra rear tire also features the distinctive snake's head logo on the sidewall.