ARLEN NESS BIRTHDAY BASH @ PETERSEN AUTOMOTIVE MUSEUM
Few, if any, have had a more prolific and respected career in custom motorcycle building than Arlen Ness, and the Petersen Automotive Museum is thrilled to honor the man himself and his creations.
The Arlen Ness Birthday Bash on July 12 at 6p.m. will include cocktails and dinner in celebration of Ness along with a preview of Arlen Ness: art On Two Wheels.. Friends of Arlen Ness will speak to honor the legend, who will also answer questions from the audience. Tickets are $95.
A new exhibit, Arlen Ness: Art On Two Wheels will open on Saturday, July 13, marked with a V-Twin Cruise-In from 9 a.m. to 2 p.m. Anyone who rides a motorcycle to the museum will receive free parking and two-for-one admission to the museum. Arlen Ness will be signing autographs at 11:00 am.
Arlen Ness: Art on Two Wheels, which runs through Sept. 8, 2013, will feature motorcycle masterpieces built by Arlen Ness that together embody a style and spirit that blends sculpture and the thrill of motoring on two wheels. Alongside Arlen's bikes will be others built by his son Cory and grandson Zach-three generations of the Ness family have crafted some of the most stunning and trend setting custom motorcycles to ever grace the highway.
For tickets or more information on the Birthday Bash or V-Twin Cruise-In, email sscott@petersen.org, or call 323-964-6370 or CLICK HERE.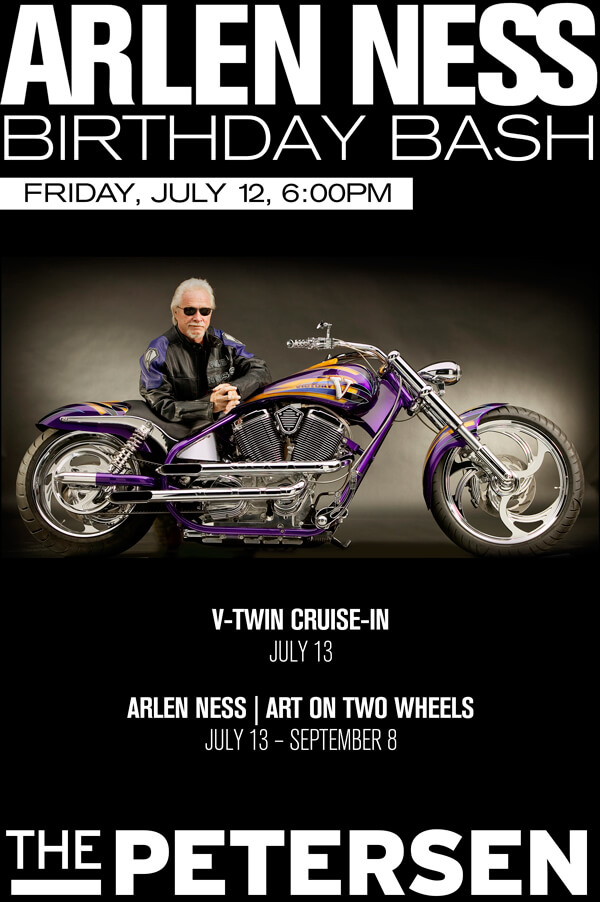 Proceeds from this event benefit the Petersen Museum's educational programs. The Petersen Automotive Museum is a 501 (c)(3) nonprofit educational institution.