Indian takes 1st & 2nd
2017 Charlotte AFT Race Results – Jared Mees captures victory for Indian Motorcycle Racing in American Flat Track Season opener at Daytona and then again took 1st in Atlanta but his teammate, Bryan Smith, took his Scout FTR750 to the top of the box on Saturday night in Charlotte.
Indian racer, Brad "the Bullet" Baker took the hole shot and held point for a total of 5 laps. But by lap 10 he was out.

Bryan Smith scored his first victory of the season on Saturday evening, April 1, at The Dirt Track at Charlotte Motor Speedway. It was a dominant win for Smith (Indian Motorcycle backed by Allstate Scout FTR750) beating fellow Indian Motorcycle rider Jared Mees by 3.769 seconds.
Joining the Indian Motorcycle duo on the podium was Sammy Halbert on the Estenson Logistics Harley-Davidson XR750R. Halbert went into Charlotte looking for the win, but was happy to leave with a podium finish for his new team.
"It felt good to get up on the podium. First podium of the year, first one with the new team," Halbert said. "These guys, Estenson Racing, have been putting in so much hard work so it feels great to reward them with a podium."
Undefeated going into Charlotte, Jared Mees (No. 9 Indian Motorcycle Rogers Racing Scout FTR750) didn't have anything for Bryan Smith on Saturday night. He leaves the track retaining the points lead.
"You can't win them all, and I was glad to see Bryan (Smith) get the job done on the Indian Motorcycle," Mees said. "So far, Indian's won all three Grand Nationals. It's a shame for Brad (Baker), because I think we would have had an all-Indian podium again.
Top 10 Results from Charlotte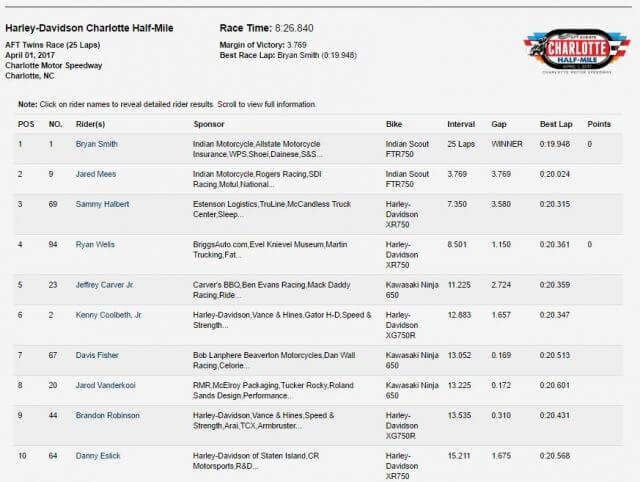 The Harley-Davidson Factory Flat Track Team was also hungry for a win. Unfortunately, Saturday night wasn't to be for the orange and black crew. Jake Johnson (No. 5 Harley-Davidson Factory Flat Track Team XG750R) leads the way, sitting fourth in the standings.
2017 Charlotte Point Standings
"Charlotte has always been a great race track and what a nice facility," said Mees, the defending winner of the Harley-Davidson Charlotte Half-Mile.
Not Just Racing – 2017 AFT Entertainment in Charlotte
In addition to the action on the racetrack, there was a host of off-track festivities.There was antique bike display from American Classic Motorcycle Museum of Ashboro, N.C., and Cabarrus Brewery, located only five miles south of Charlotte Motor Speedway, will offer its products at a craft beer garden, located in a tent behind the main grandstand.
The Logie Meachum Trio Blues Band performed live in the vendor area from 2-6 p.m., while live musical entertainment by Ray Martin of Shame for Sydney provided during the intermissions. As a show of support for America's heroes, 20 new U.S. Army recruits were sworn in during the event. NASCAR legend Ernie Irvan was the Grand Marshal, while Vada Harbison performed the National Anthem and God Bless America.
2017 AFT Schedule
May 13: Arizona Mile – Turf Paradise, Phoenix, Ariz.
May 20: Sacramento Mile – Cal Expo Fairgrounds, Sacramento, Calif.
May 27-28: Springfield Mile I* – Illinois State Fairgrounds, Springfield, Ill.
June 3: Red Mile – The Red Mile, Lexington, Ky.
June 17: OKC Mile – Remington Park, Oklahoma City
June 24: Lima Half-Mile – Allen County Fairgrounds, Lima, Ohio
July 8: Rolling Wheels Half-Mile – Rolling Wheels Raceway Park, Elbridge, N.Y.
July 29: Calistoga Half-Mile – Calistoga Speedway, Calistoga, Calif.
Aug. 6: Buffalo Chip TT presented by Indian Motorcycle – Buffalo Chip Campgrounds, Sturgis, S.D.
Aug. 8: Black Hills Half-Mile – Black Hills Speedway, Rapid City, S.D.
Aug. 13: Peoria TT – Peoria Motorcycle Club, Peoria, Ill.
Sept. 2-3: Springfield Mile II** – Illinois State Fairgrounds, Springfield, Ill.
Sept. 9: Williams Grove Half-Mile – Williams Gove Speedway, Mechanicsburg, Pa.
Sept. 23: Lone Star Half-Mile – Texas Motor Speedway, Fort Worth, Texas
Oct. 7: Perris Short Track – Perris Auto Speedway, Perris, Calif.
* AFT Singles will race a TT on May 27
** AFT Singles will race a Short Track on Sept. 2