Custom Daytona Bike Show @ Broken Spoke Saloon on Wednesday, March 14
Join the crew of Cycle Source Magazine For Their First Bike Show of 2017 and of the 20th Anniversary. It's the Magazine's Annual Free Ride In Bike Show at The Broken Spoke Saloon, Ormond Beach. Free To Enter; Free To Win.
Winner, Winner — Chicken Dinner – Best In Show Gets A Full Feature In Cycle Source!
REGISTRATION STARTS At Noon – AWARDS At 5:00PM
Awards will be given in 21 classes and there's a Class For Every Seat: Sportster; Big Twin; Bagger; Chopper; Bobber; Panhead; Knucklead; Shovelhead; Flathead; FXR; Evo; Twin Cam; Asian Import; European Import; Antique; Antique Radical; Sport Bike; Best Paint; Trike; Hardcore; Best In Show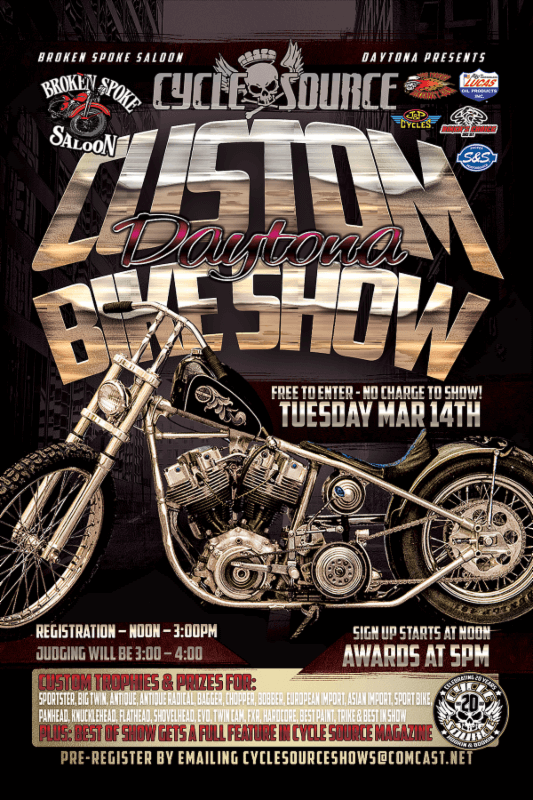 About Broken Spoke Saloon
It all began 20+ years ago in Sturgis, South Dakota. What began as a small band of dedicated riders with a love for the open road and a thirst for adventure (not to mention an occasional adult beverage) has become the biggest biker bar on the planet. And no matter where you find us — in the Black Hills of Sturgis, South Dakota, the lakes of Laconia, New Hampshire or the sunshine of Daytona, Florida, you'll always find the same things — great bikes, hot babes, cold drinks and fast friends.
That's what happens when you have a saloon that's as authentic as the riders — and bikes —that come in here year after year. So stop back here often and share this page with your friends to help keep them up to date on all things Broken Spoke! Until we see you on the road.
1151 North US Highway 1
Ormond Beach, FL, 32174 USA
617-866-9199