Bike Show in Big D
The most bikes, the greatest diversity, and the most big wheel baggers in one show describes the 2015 edition of the J&P Cycles Ultimate Builder Custom Bike Show in Dallas. Over 40 bikes rolled into the friendly confines on Friday, January 23, 2015.
The craftsmanship, design and innovation were just outstanding. For example, Kyle Shorey of Shadetree Fabrication brought in a slick little Softail that was built off a kit that allows you to convert your sled into an old-school bobber in a matter of hours. Platinum Motorcycles brought in a crazy Kawasaki ZX14 bagger. It's being developed into a kit so that anyone with a little talent can ride a sportbike as a bagger.
The hardest working motorcycle entertainer, Progressive Insurance's Pat Jansen, kicked off the show in fine style. The first award handed out was the People's Choice award and it went to Krystal Hess of Ricochet Customs. She left South Beach with a Special Ops vest from 5 Ball Racing Leathers and a Custom 500 lid from Bell Helmets.
The Showdog Award is for the builder that works the show floor the hardest. There were many contenders but Art Steele had it in the bag by hiring a spokes models to assist in promoting his company and his line of custom Baggers.
For his efforts he took home The Leatherworks Inc. solo bag.
FreeStyle J&P Cycles Ultimate Builder Winner

Controlled Chaos features a hand built frame with a half of a leaf spring handling the damping on the rear. The 47 CI Harley-Davidson mil utilizes dual mags and dual carbs. The tank and sheet metal were hand-hammered into submission. Paint supplied by Lonnie Moore.
Moore Customs, Larry Moore – Controlled Chaos, 2015 Moore Customs
MisFit Customs – Acid Trip, 2013 Street Glide
Custom MOD J&P Cycles Ultimate Builder Winner

MisFit Customs placed 6 bikes into the competition and came away with a first in MOD Custom and 2nd in FreeStyle. Acid Trip, features a raked neck, extended bags, performance upgrades and sound that makes your ears bleed. The show stopping paint was applied by Execution Style.
MisFit Customs – Acid Trip, 2013 Street Glide
Metroplex Kustoms, Crush – MK Road King, 2010 Road King
Retro MOD J&P Cycles Ultimate Builder Winner

Jimmie Lee & JC Coen rolled in their customer's bike, T100. Two and a half days later they rolled out of Dallas, TX with a big check and a win. The bike features a drop seat frame and a T100 500cc mil. The white powder coat frame contrasts beautifully with the turquoise tank and rear fender. The bike comes with a springer frontend and raised white wall Pirelli tires front and rear.
Three Two Choppers – T100, 1971 Triumph T100
Freddie Arnold – Memphis Magnum, 1947 HD
Throughout the weekend builders were interviewed in the Progressive Garage and on the Progressive stage. Enthusiasts were able to see behind the curtain and understand more about how the creative process works and what it takes to build rolling pieces of art.
The 3 Classes
Three classes and up to 30 custom bikes are presented at each of the J&P Cycle's Ultimate Builder competition. The bikes are sourced from the local builder community. So each show has a unique selection of custom bikes. The class structure includes FreeStyle, Retro MOD and MOD Custom.
Retro MOD bikes are motorcycles older than 1984. Anything goes with FreeStyle bikes and you are only limited by your imagination. Bikes retaining the frame cradle and OEM engine cases are slotted into the MOD Custom class.
The Progressive International Motorcycle Shows rolls into 11 cities across the nation. The nationwide motorcycle extravaganza has something for every powersports lifestyle and fan. Besides the nation's largest custom bike show, it's the best place to experience the latest in gear, aftermarket parts and accessories. You can see the all-new models from major manufacturers and enjoy rider seminars at the main stage and much, much more.
The J&P Cycles Ultimate Builder Custom Bike Show is produced by custombikeshows.com.
Gallery of Images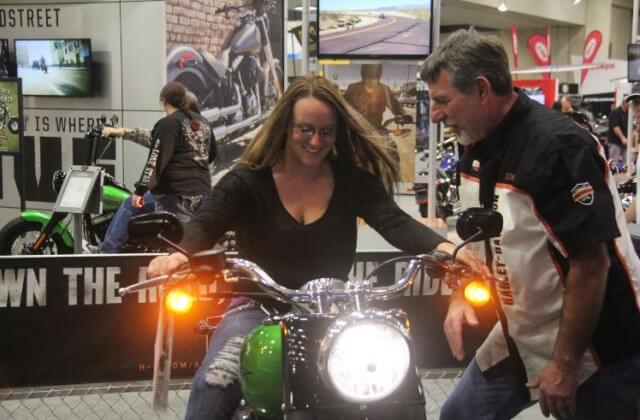 ]