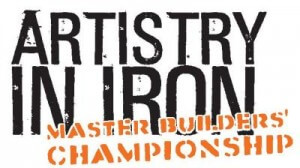 See and meet 20 of the hottest builders as they show off their latest build. If you appreciate the artistry of a well-built machine, you gotta check this out. The famous and soon to be famous will have their bikes on display at this "invitation only" show. You'll get to check out the bikes, chat with the builders and get autographs from your favorites.
Awards will be presented on Saturday, 10/5 at 6:00pm in the Artistry in Iron display area. A check for $10,000 will be presented to the winning builder, as voted by his peers – the other participating builders.
Interviews with Builders from Cycle Source Magazine

One of the builders is "Katy the Dove" from AFT Customs. You might have seen her at the AMD Invitational in Milwaukee cutting video and interviewing builders on stage.
In addition, a trophy will be presented to the People's Choice Winner. For the second straight year, the Editor's Choice Awards will also take place during Artistry in Iron. Editors from top motorcycle publications will select their favorite and award them with a trophy and a feature article in their magazine.
Autograph Sessions
We invite you to spend as much time in the Artistry in Iron exhibit area speaking with the attendees and providing autographs.  Following are the official autograph sessions you selected.
Lock Baker: Friday: 12:00pm – 2:00pm; Saturday: 12:00pm – 2:00pm
Michael Barragan: Thursday: 3:00pm – 5:00pm; Friday: 12:00pm – 2:00pm; Saturday: 12:00pm – 2:00pm; Sunday: 11:00am – 1:00pm
Rick Bray: Thursday: 3:00pm – 5:00pm; Friday: 3:00pm – 5:00pm; Saturday: 3:00pm – 5:00pm
Tim Dixon: Thursday: 3:00pm – 5:00pm; Friday: 12:00pm – 2:00pm; Saturday: 3:00pm – 5:00pm; Sunday: 11:00am – 1:00pm
Len Edmondson: Thursday: 3:00pm – 5:00pm; Friday: 12:00pm – 2:00pm; Saturday: 12:00pm – 2:00pm; Sunday: 11:00am – 1:00pm
Yaniv Evan: Friday: 12:00pm – 2:00pm
H. Gio Giovanni: Thursday: 3:00pm – 5:00pm; Saturday: 3:00pm – 5:00pm
Jim Giuffra: Saturday: 3:00pm – 5:00pm
Jason Grimes: Friday: 12:00pm – 2:00pm; Saturday: 12:00pm – 2:00pm; Sunday: 11:00am – 1:00pm
Ron Harris: Friday: 12:00pm – 2:00pm; Saturday: 12:00pm – 2:00pm; Sunday: 11:00am – 1:00pm
Gary Maurer: Friday: 12:00pm – 2:00pm; Saturday: 12:00pm – 2:00pm; Sunday: 11:00am – 1:00pm
Pat Patterson: Thursday: 3:00pm – 5:00pm; Friday: 12:00pm – 2:00pm; Saturday: 3:00pm – 5:00pm; Sunday: 11:00am – 1:00pm
El Pitts: Thursday: 3:00pm – 5:00pm; Friday: 12:00pm – 2:00pm; Saturday: 12:00pm – 2:00pm; Sunday: 11:00am – 1:00pm
Paul Ponkow: Friday: 3:00pm – 5:00pm; Saturday: 3:00pm – 5:00pm
Will Ramsey: Friday: 12:00pm – 2:00pm; Saturday: 12:00pm – 2:00pm; Sunday: 11:00am – 1:00pm
Daniel Sanchez: Thursday: 3:00pm – 5:00pm; Friday: 3:00pm – 5:00pm; Saturday: 3:00pm – 5:00pm; Sunday: 11:00am – 1:00pm
Bryan Schimke: Thursday: 3:00pm – 5:00pm; Friday: 3:00pm – 5:00pm; Saturday: 12:00pm – 2:00pm; Sunday: 11:00am – 1:00pm
Michael Schreiber: Friday: 3:00pm – 5:00pm; Saturday: 3:00pm – 5:00pm
Kyle Shorey: Thursday: 3:00pm – 5:00pm; Friday: 12:00pm – 2:00pm; Saturday: 3:00pm – 5:00pm; Sunday: 11:00am – 1:00pm
Paul Wideman: Thursday: 3:00pm – 5:00pm