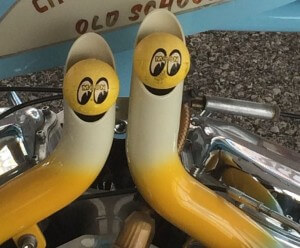 By Jeff Najar, Partner
One of the Fastest Growing Events in the Midwest
The tribe of 100,000 assembled this past weekend by the lakeshore in Muskegon, MI for the annual Muskegon Bike Time Rally.
The main drag is West Western Avenue and it transforms into "Steel Horse Alley" on Thursday when the circus comes to town.
I flew into Michigan for Bike Time because Biker Pros produced the Extreme Custom Bike Show at Muskegon Bike Time  for the Rally.This is the 2nd year and the show just gets stronger and stronger. The caliber of the bikes are outstanding and the builders enjoy hanging out by the bikes, talking with enthusiasts, revving their engines and playing their stereos for the crowds.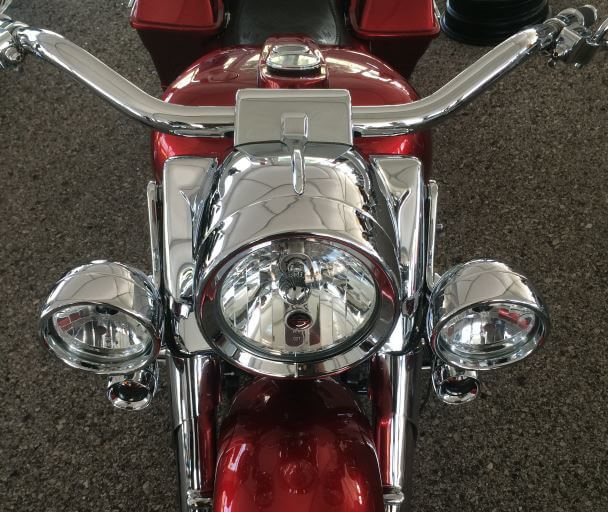 Our new Customization in America Series (CIA) Starts in Muskegon
This year, as part of our new Customization in America Series (CIA), each class winner receives an automatic bid into the Harley-Davidson Invitational Pro Custom Bike Show. It's held at the Harley-Davidson Museum campus on Labor Day. Last year the winner of the Invitational won an all-expense paid trip to the 2014 AMD World Championship in Europe.
Our Extreme Custom Bike Show's FreeStyle winner, Ron Harris from Chop Docs Choppers, has shown his award winning bike, Ol' 48,  only 4 times.
He took 1st at Artistry and Iron for People's Choice Award, 1st at the J&P Cycles Ultimate Builder Custom Bike Show in NOVI, 2nd at the Ultimate Builder Nationals and 1st at Extreme Custom Bike Show at Bike Time.
Ol' 48 is a cream custom-built flat tracker with a 95-inch Pan/Twin Cam with two front cylinder heads and a Panhead top end. Fuel is calibrated through a pair of XR 750-inspired carbs. Exhaust is routed through a 2-into-1 header pipe with a D&D Exhaust canister. One of the cool aspects of the bike is the Hurst pistol grip shifter incorporating its own clutch lever to keep the bars clean.
FreeStyle  Extreme Custom Bike Show  Results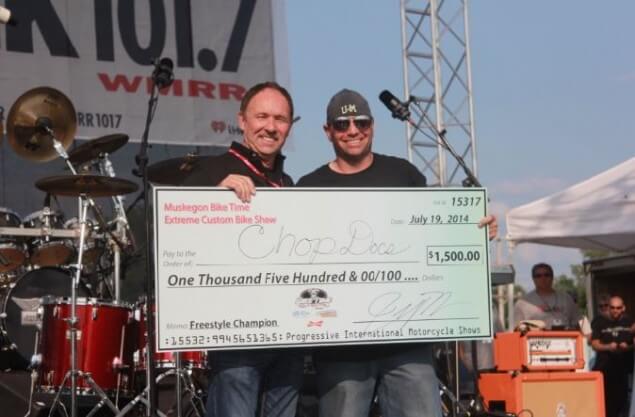 Ron Harris Takes the Win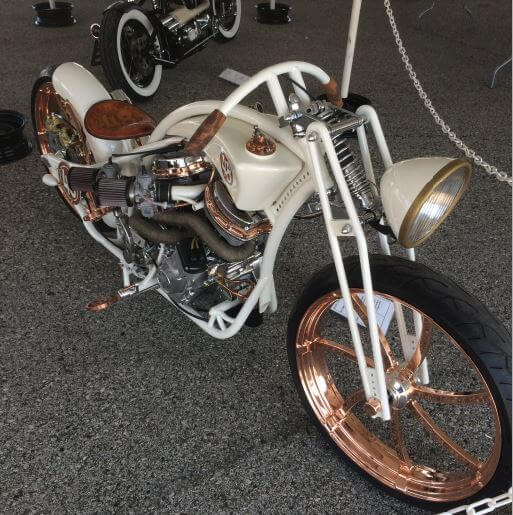 Ol' 48 wins Freestyle
Ron Harris, Chop Docs
John Creed, Custom Chopper
Wendell Turner, Turner Customs
Radical Bagger  Extreme Custom Bike Show  Results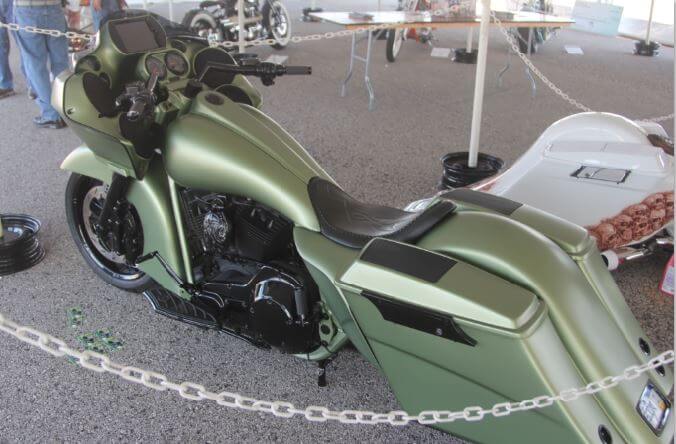 Radical Bagger Winner
Jim Robertson, Native Custom Baggers
Don Robb, AR Baggers
Paul Richards, Native Custom Baggers
MOD Harley  Extreme Custom Bike Show  Results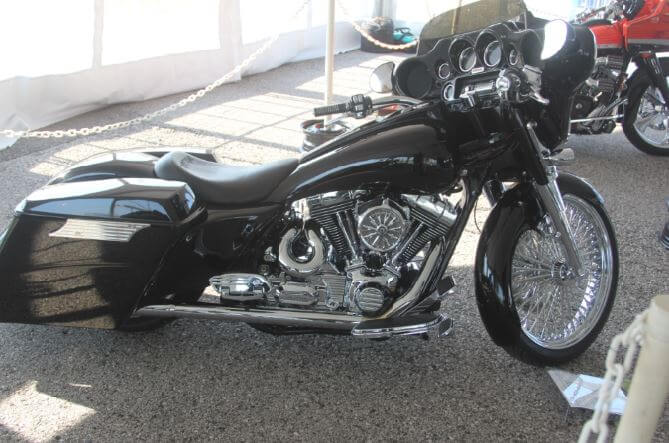 MOD Harley Winner
Will Nouhan, Native Custom Baggers
Dell Battles, 2009 Road GLide
Chad Plaggemeyer, Slacker Garage
Retro MOD  Extreme Custom Bike Show  Results
Retro MOD Winner
John Kriesel, Hunters HD
Tony Fiore, 1958 FLH
Brenda Harris, Chop Docs Choppers
Sleds line the main street with bikers walking down Steel Horse Alley checking out the scene and packing the bars and beer tents. Right in the middle of the action is the Muskegon Heritage Museum which featured an eclectic mix of classic bikes. The main attraction was the World War II era  WLH Harley Davidson.  The 1942 military edition motorcycle had a military green paint job, white star on the tank and a gun holster for a rifle near the front wheel and in arm's reach of the rider.
Over 100,000 Attends the Muskegon Bike Time Rally
All the customs for the Ultimate Builder Show were housed in a large tent for the 2-day bike show. We set up the command center at the back of the tent to monitor the show, chow down, count the ballots, perform judging functions and hang out. From time to time folks would stop by and ask to sit and rest their feet. We would accommodate as long as we got a story.
Stories from the rally
The first guy grabbed his hat that was embroidered with Alaska and talked about how he was in the state last week and was out hunting Moose and ran into Sarah Palin. They talked guns and before you knew it, he was at her house, having venison and watching Russia with her out her back window. And… she looked real, real good. We called the story bullshit but gave high marks for story telling and let him squat for as long as he wanted.
Another story came from a gal, who was buying a house with her "man."  We're they married? No. "How do you keep the relationship together," I asked. Sex. "Hmmm, being an astute journalist, I needed more information." She said, "I gave him a book on Kama Sutra and told him he could pick four positions." Sounds like they may stay together for a while.
One of the more interesting stories came from Chad Plaggemeyer, Owner of Slacker Garage. He has a powder coating business. The tins on his 3rdplace winning Sporty are powder coated metal flake. It looks a lot like Harley's custom-paint and styling package called Hard Candy Custom.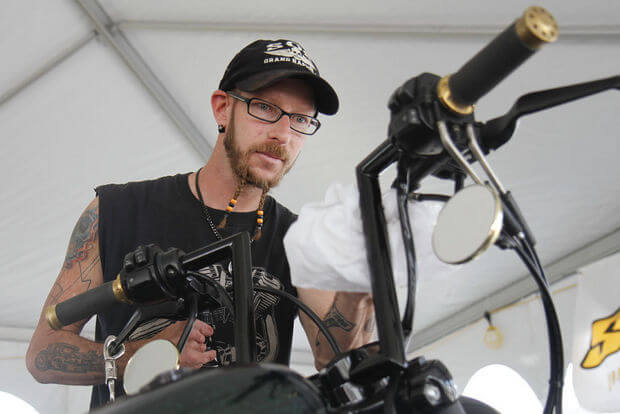 Chad Plaggemeyer cleans his 2010 H-D Forty-Eight called "Sucker Punched"
Plaggemeyer had this to say about current powder coating technology, "When people think of powder coating they usually think of basic black but we offer the colors to fit your imagination." "Powder applications such as candy, metal flake and texture finishes are now available including high quality black finishes from flat and textures to satins and high gloss."
Muskegon was loud and colorful this past weekend as the 8th annual Bike Time festival saw approximately 80,000 motorcycles and zero rain and 100% glistening sunshine.
Positioned right off Steel Horse Alley was two new breweries called The Pigeon Hill Brewing Company and the UnRuly Brewing Company. And the surprising good brew was one from UnRuly which was a crisp and clean light ale called Shovelhead. Good enough that they sucked the barrel dry.
Hannah "Star" Rininger cheers after winning the Miss Bike Time 2014 Pageant
What's a rally without music? It's like a Harley without a rumble… Not to worry at Muskegeon Bike Time. This year's festival included several concerts, including "Let There Be Rock" A Live Tribute to Early AC/DC, Lee Rocker from The Stray Cats and 38 Special. All the concerts were held at the back lot of Hot Rod Harley-Davidson.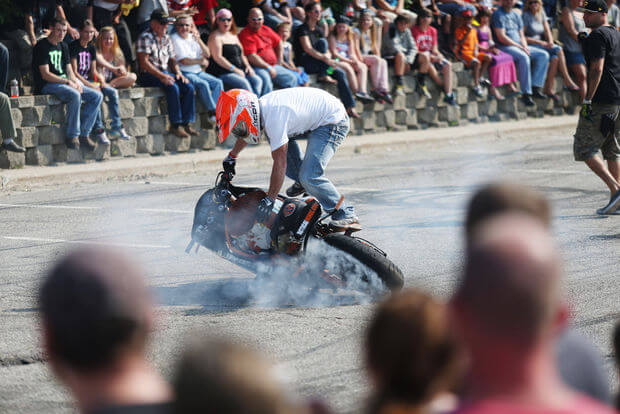 Muskegon Bike Time Stunt Show
The rally was a huge success and the two men that are responsible for it and have the vision to move it forward are the key owners of Hot Rod Harley-Davidson, Clyde Whitehouse and his partner Doc. The 2014 edition is in the books and we are ready to rev it up again.