The custom bikes that rolled into the 2013 Hollister AMD Qualifier Custom Bike Show were greeted with balmy 77 degree weather. Enthusiasts were greeted with 47 sizzling hot sleds. Bikes ranged from Harleys, Triumphs to ground up customs.
Builders won over $7,000 in cash and prizes. Product awards were provided by Rocking K Leathers, Bell Helmets, D&D Exhaust, Avon Tires, Ridewright Wheels and HelmetLok.
The winning bikes from the 2013 Hollister AMD Qualifier Custom Bike Show include the following six classes:
Hollister AMD Qualifier Class – FreeStyle
Sam Baldi of Profile Cycles took 1st place in the FreeStyle class with Lost Angel and won the $1,500 check and an automatic bid to compete in the 2nd Annual AMD Invitational Custom Bike Show is held in Milwaukee on the Harley-Davidson Museum campus during the 110th celebration. Lost Angel is a custom 2013 build with an EVO Patrick Racing 113 mil softail with trans brake, centrifugal clutch and Paul Cox seat. Paint is by One Xtreme.
1. Sam Baldi of Profile Cycles, Patrick Racing 113ci – Lost Angel
2. Bryce Cole, Panhead – Second Wind
3. Jay Burnham of Freak Show Choppers, S&S 124 – Santa De Muerte
Hollister AMD Qualifier Class – Performance Custom
The Performance Custom class was filled with high-performance Harley-Davidson motorcycles with the Manteca, Ca builder, Paul Binford of Binford Custom Cycles, taking the point with his 2013 Captain Bad Ass Sporty. Paint and engine hop-up by Binford. The bike is designed for the Dirt and the Street.
1. Paul Binford of Binford Custom Cycles – Captain Bad Ass
2. Al Conte, Pro Street / Merch 120 – Thunderstuck
3. Curt Winter, 95" Twin Cam – BTR GP
Hollister AMD Qualifier Class – MOD Harley
The MOD Harley class is always a jump ball because you never know what will take the blue ribbon. In Hollister a killer Bagger, Calwa Cali by Al Sanchez, took the $1,250 check and won the class by a clear and distinctive margin. Kandy Colbalt blew on Blue Ice Flake. Special features include engraving, murals and an ear-bleeding sound system.
1. Al Sanchez, 2005 Road Glide Police – Calwa Cali
2. Giovani Gastello, 2007 Electroglide – Blue Diamond
3. Mario Vargas, 2008 Road King – Hogg King
Hollister AMD Qualifier Class – Radical Bagger
The 2007 Road King was transferred by Bike Werks CA Baggers into a Radical Bagger winner. The mil is a 96 H-D mil with Stage 2 mods. Paint is from KDaddy Kustomz. It features 8" extended bags, 26" front billet wheels and a Razor Tour Pack.
1. Bike Works CA Baggers, 2007 Road King
2. Hydrographics, 2007 Roadglide
Hollister AMD Qualifier Class – Retro MOD
Dalton Walker's Shknuckle took 1st place in Retro MOD and wins $1000. The big story is Walker brought in 4 bikes and took 1st and 2nd and almost ran the board in Retro MOD. The winning sled is a hand-made frame, forks, pipes and accessories. The mil is a shovel with a knuckle top.
1. Dalton Walker of SIK, Knuckle & Shovel – Shknuckle
2. Dalton Walker of SIK, Triumph – Robins Dean
3. Fredrick Fortune, Ironhead Sportster – Psyclone

Hollister AMD Qualifier Class – MOD Street
Jim Guiffra of AFT Customs took 1st place with Halia. The construction is the handiwork of the 'AFT Custom Girls', which is a group of female motorcycle enthusiasts and models hone their skills at the AFT shop in Jackson, CA.
The tank of Halia is hand-made from steel and the side covers and fenders are hand formed from aluminium. The frame is modified from a stock standard structure and things like a hidden radiator, race suspension, digital switches and LED lights point to the bike's intent. The street tracker also runs a Beringer six-piston front caliper on the disc brake, while a standard Honda drum brake lives at the rear.
1. Jim Guiffra of AFT Customs – Halia
2. West Coast Hydrographicx, 2008 R6 – Kandee
3. Joe Lozano, 2003 Indian Chief – Dreamcatcher Bike
The word Hollister has been synonymous with California motorcycle rallies for decades. It secured its place in pop culture from the 1954 film "The Wild One" with Marlon Brando, which is based on the 1947 rally. The free motorcycle and street music festival (30 bands on 4 stages) featured Yamaha demo rides, vendors, a food festival, a vintage and Cafe Racer ride-in show, poker runs, bike games, Beer Garden and the premier custom bike show.
Photos From The Show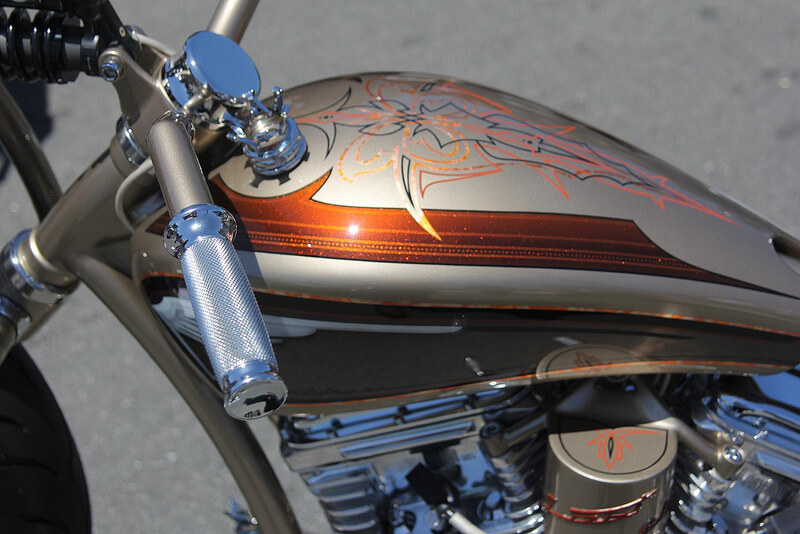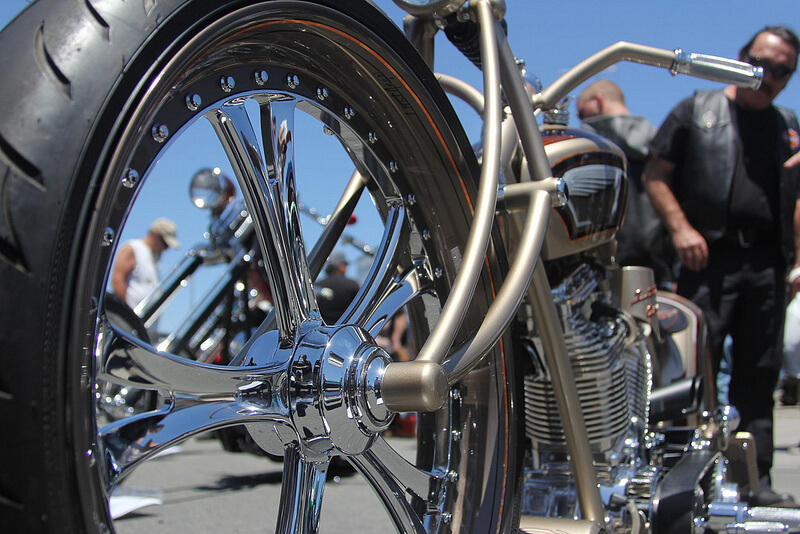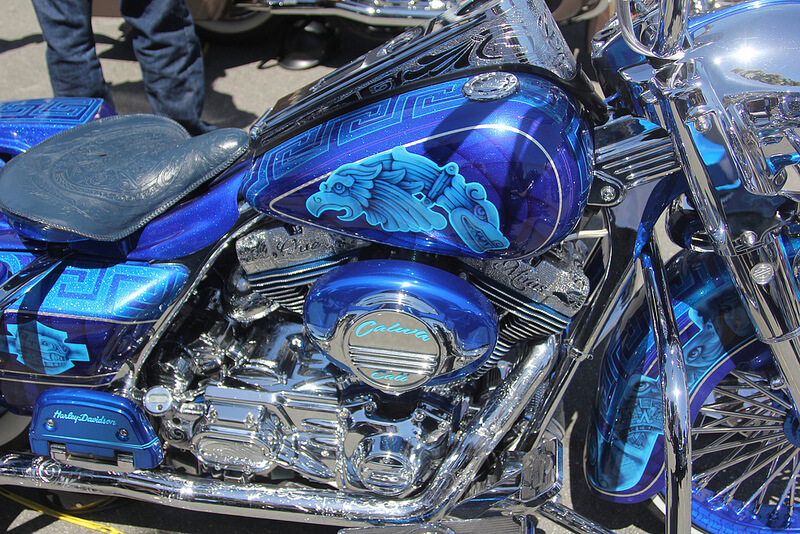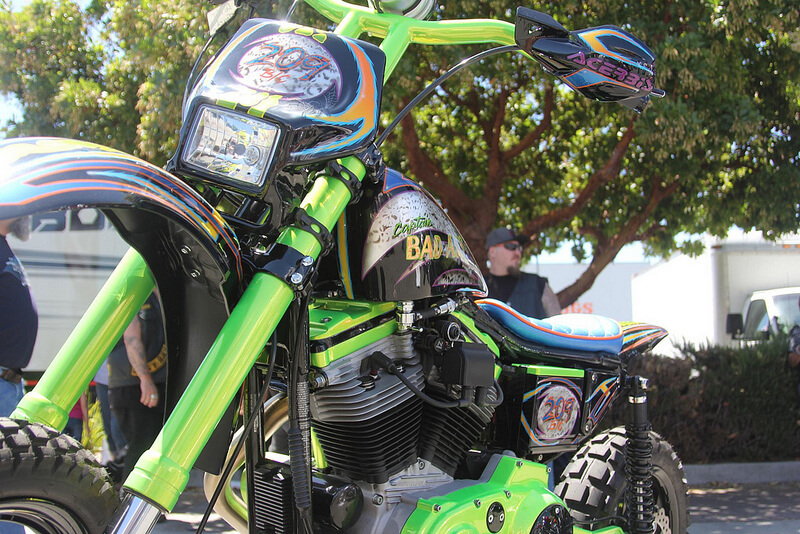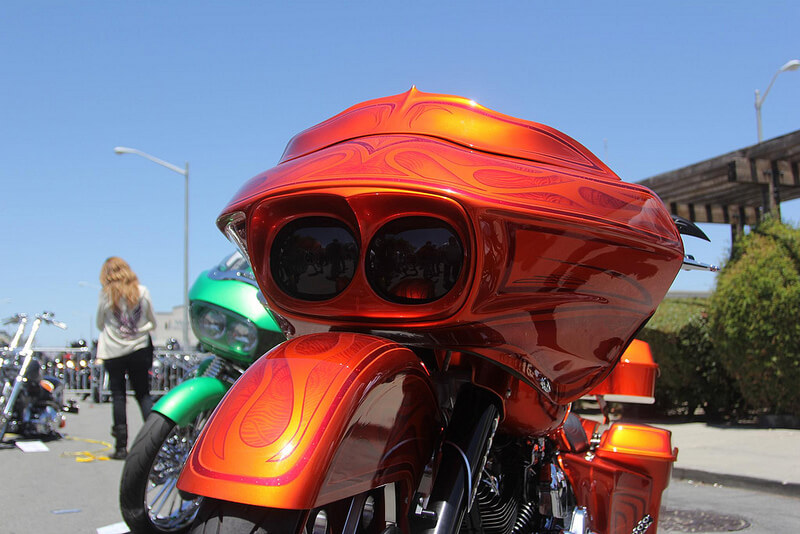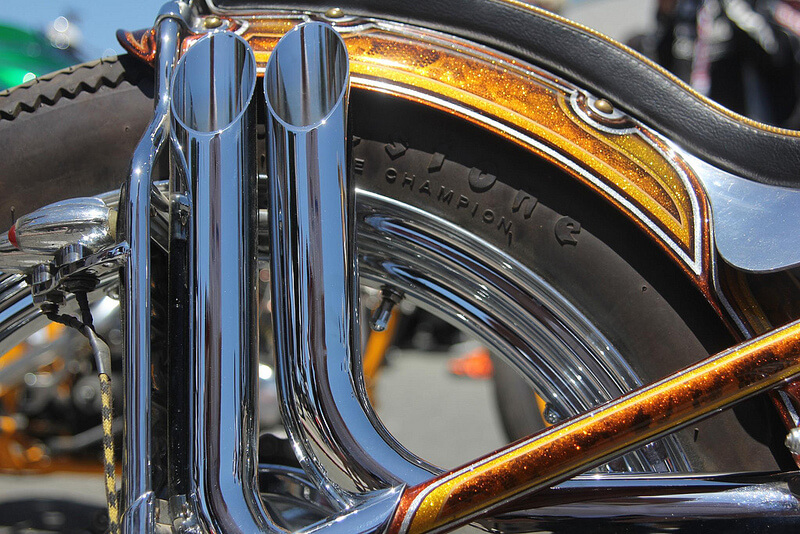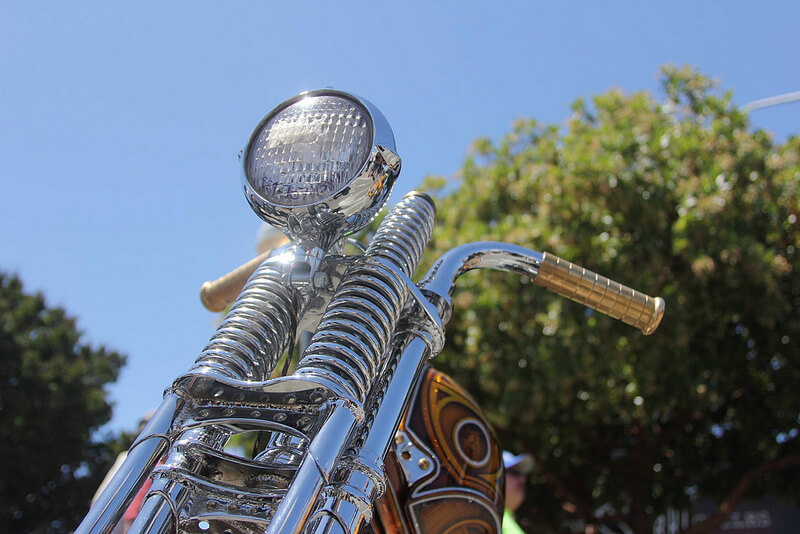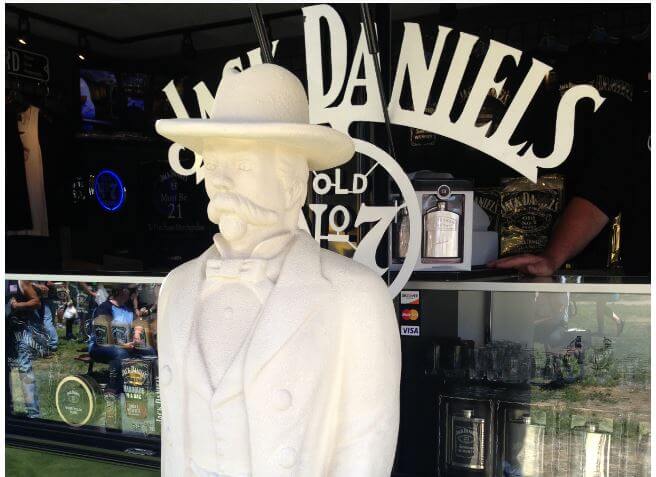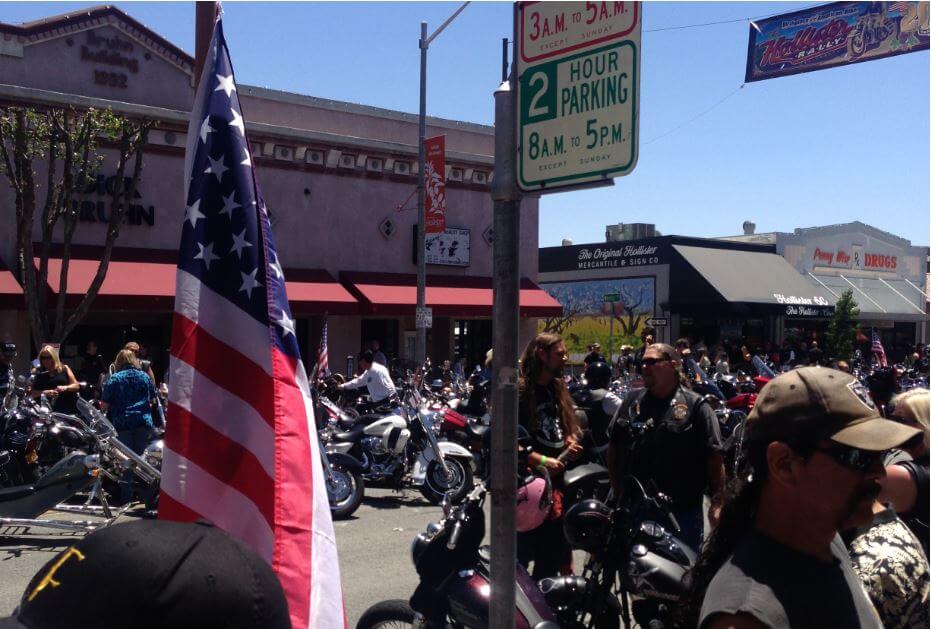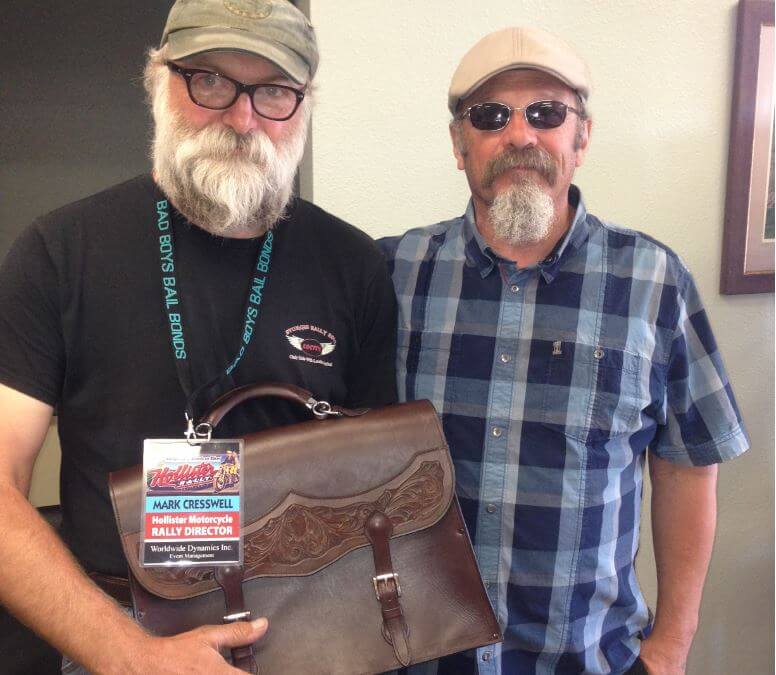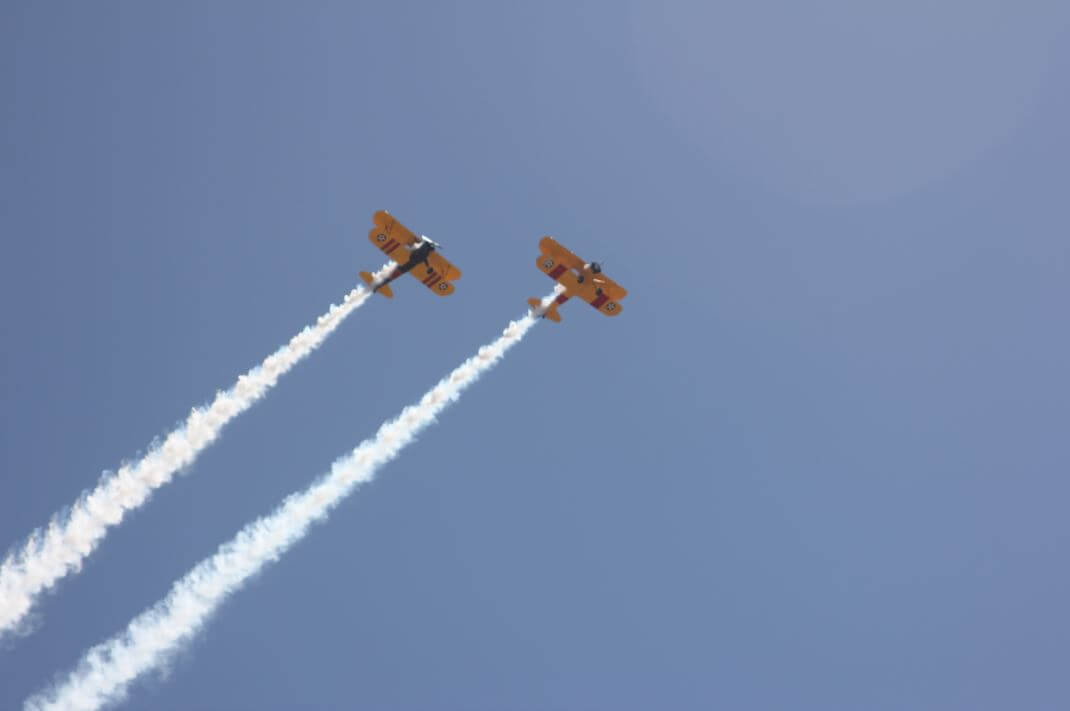 About Biker Pros
Biker Pros produces custom bike shows for Advanstar, Harley-Davidson and the AMD World Championship. Our goal is to support the custom motorcycle marketplace and build strong relationships with the motorcycle community. Enter your bike into the Ultimate Builder in Sturgis.