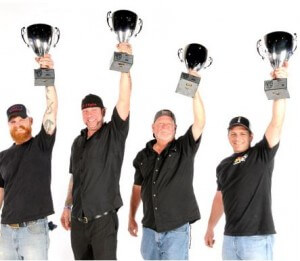 CLASS STRUCTURE
The following are the class definitions for the 6 classes:
FREESTYLE
One-off, ground-up built custom bikes, on all or any chassis platforms or drivetrains. Must run and stop.
MODIFIED HARLEY-DAVIDSON
Stock Evo or later frame and stock Evo or later (1984) (including Screamin' Eagle / JIMS) engine cases. The stock frame/Harley platform geometry must be maintained; the only modifications allowed are weld smoothing and other moldings and sheet metal additions, tab and or bracket relocation or removal and arising smoothings/moldings (such as exhaust bracket relocation for example). Swingarm/rear-end changes, of any kind, including replacement swingarms, are permitted; fat or skinny rear end conversions are permitted; as is frame or rear-end lowering or raising – provided the basic stock frame geometry is unchanged. Case internals can be replaced, along with cylinders, heads and internals. Turbo chargers, super chargers, NOS kits etc are permitted. Frames and cases can be from two different Harley-Davidsons.
RADICAL BAGGER
Based on a modified or OEM frame. Requires fairing and saddlebags. Any drivetrain is acceptable.
RETRO MODIFIED
Any modified bike, with any drive train on any chassis configuration manufactured prior to 1984. Must be based on a pre-1984 engine, and styled to have the appearance of a motorcycle manufactured prior to 1984. Use of some contemporary parts/design elements is permitted.
PERFORMANCE CUSTOM
Race inspired styling with performance enhancing engine modifications. Any motorcycle frame configuration and drivetrain combination. Judging will be focused around engine and handling modifications. Drag racers, stretched out sport bikes, Bonneville racers and highly modified sportbikes.
MOD STREET
This is a non Harley Davidson street class for cruisers and mildly modified sport bikes. Must have Major OEM ie; Honda, Yamaha, Suzuki, Kawasaki, Polaris, Triumph etc manufactured frame and engine cases. Harley is not allowed in this class. Frame must maintain stock configuration so neck may not be cut to rake or stretch. Modified swingarms kits, fat tire conversions and weld on hardtails are acceptable.
OFFICIAL JUDGING RULES
Judging is based off the AMD World Championship of Custom Bike Building. It will be conducted by 'peer review', topped up by a VIP panel. One voting form will be issued per builder on registration regardless of the number of bikes entered. Competitor cannot vote for their own bike(s).
Correctly completed judging forms must be received back at the Registration Desk by the stated deadline to be included in the voting process. The decision of the judges is final. In the event of a tie on points for any award, the entry having gained the most 1st place votes of the tied entries will be deemed the winner.