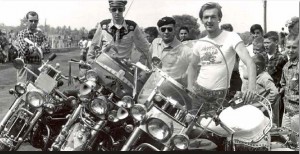 July 10 – 12, 2014
Thursday, July 10: Bike Night, 5 pm – 9 pm
Friday, July 11: MOTOR® Fish Fry, 5 pm – 9 pm
Saturday, July 12: Vintage Motorcycle Rally, 9 am – 5 pm
Come enjoy a Wild Ones Weekend at the Museum starting with Bike Night and ending with a real 1940's Motorcycle Rally. The 12th Annual Knucklehead Company Reunion hosts an Antique Motorcycle Ride In Show, the AMCA Badger Heritage Chapter hosts authentic Motorcycle Field Games (slow race and plank ride) and Aaron Twite will amaze the crowds with a Motorcycle Freestyle Stunt Show. All this and more celebrating our motorcycle heritage with vintage style.
Antique Motorcycle Ride In Show Classes:
• Stock Knucklehead
• Custom Knucklehead
• Sidevalve
• Panhead
• Shovelhead
• Other Pre 1970 American Made
$20 entry per bike with proceeds going toward Make-A-Wish Foundation.
SCHEDULE OF EVENTS
Thursday
5:00-9:00 pm Bike Night (music, concessions, raffles) with WI Club Vintage Car Display & Pin Up Girls
6:30 pm Aaron Twite Motorcycle Stunt Show Performance #1
8:00 pm Aaron Twite Motorcycle Stunt Show Performance #2
Saturday
9:00 am Vintage Bike Show Check-In / Registration run by The Knucklehead Company
9 am – 5 pm Tin Can Tourist Vintage Trailer Display
9 am – 5 pm MKE IndyFest Show Car Display
11:30 am Aaron Twite Motorcycle Stunt Show Performance # 1 & Vintage Bike Show Judging by Knucklehead Company
12:00 pm  Band: The Best Westerns (Swing Band)
1:00 pm Aaron Twite Motorcycle Stunt Show Performance #2
1:30 pm Motorcycle Field Games by AMCA Badger Heritage Club
3:00 pm Vintage Bike Show Awards, Motorcycle Field Games Awards & Raffle Ticket Winners Announced (All proceeds to Make-A-Wish)
3:30 pm Band: The Best Westerns (Swing Band)
5:00 pm Aaron Twite Motorcycle Stunt Show Performance #3
8:00 pm Aaron Twite Motorcycle Stunt Show Performance #4
Dusk  The Lost Road (DICE Movie Premiere)
10:00 pm  Rocco DeLuca Concert
Knucklehead Company Bio: Knucklehead Company Ltd. – Founded in 1977 in Wisconsin Rapids, Wisconsin by a group of enthusiastic fans of the Harley-Davidson overhead valve motorcycles (Knucklehead) produced between 1936 and 1947. Membership in the club required the ownership of a running bike of the genre. The group was formed on the premise of perpetuation of the spirit of motorcycle camaraderie of the 1940's. The club has grown in membership over the past decades and 12 years ago an annual "reunion" was created to gather members past and present to celebrate the clubs long history. The club follows the belief of "Ride 'em! Don't hide 'em!"
Badger Heritage Bio: The Antique Motorcycle Club of America – Founded in 1954 by a group of antique-bike fans in the New England area. In the decades since, the AMCA has grown to become one of the largest organizations of antique-motorcycle enthusiasts in the world, with 11,000 members in the United States and more than a dozen other countries. From the beginning, the purpose of the club has been the "preservation, restoration and operation of old-time motorcycles." Members of the AMCA own, restore, preserve, study or just admire motorcycles that fall into the antique category, meaning they are at least 35 years old. The Badger Heritage Chapter are one of the 58 chapters worldwide! www.badgerheritage.com.
Aaron Twite Bio: Aaron came on the freestyle scene strong, immediately taking top rankings in US and World competitions, while simultaneously introducing new tricks to the sport. Now a competition veteran, 2011 has seen Aaron at every major US competition including the XDL Series Championship and Stuntwars series. Outside the competition arena Aaron can be found in numerous magazine and television features, massive online viral presence, shows and competitions around the world. Positively, fun, and furious riding to unite the freestyle world! No rider has impacted the sport of freestyle streetbikes on a global level like Aaron Twite. Aaron's influence can been seen everywhere from shows, competitions and sessions across the US, Europe and Asia. www.aarontwite.com.
Tin Can Tourists Bio:  Tin Can Tourists is an all make and model vintage trailer and motor coach club. The club's goal is to promote and preserve vintage trailers and motor coaches through gatherings and information exchange. The club is open to everyone and ownership of a vintage trailer or motor coach is not a prerequisite for membership. www.tincantourists.com
MKE IndyFest Show Car Display Info: On August 16-17, 2014 IndyFest comes to Milwaukee at the Milwaukee Mile, come check out the show car and learn about the 'Ride to the Mile' during Wild Ones Weekend.  www.milwaukeeindyfest.com