Essen Germany
The FreeStyle winner of the 2013 AMD Invitational Custom Bike Show held in Milwaukee on the Harley-Davidson Museum campus will go to Essen Germany and compete in the World Championship as a TEAM USA member.
2013 TEAM USA Representative
In early 2013 Jon Shipley headed to Essen Germany for TEAM USA to compete in the World Championship with the Firehouse Racer.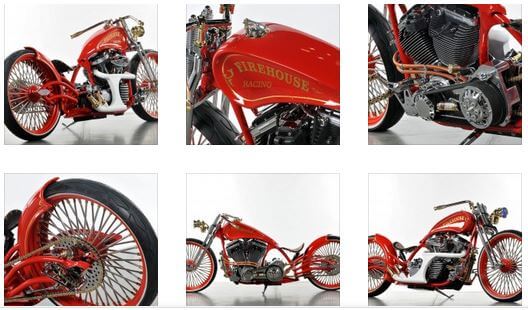 Jon Shipley of Hossier Daddy Chopper combined a 1997 Harley Softail front clip with a custom rigid rear section. Jon put a 96" Twin Cam in an Evo frame.
Pipes by Andy Boersma Kalamazoo Choppers – Pipe tips: 1920′s firehose nozzles – S&S Carb – Ultima 2″ belt – Oil tank: 1950′s fire extinguisher – Gas tank: Jon Shipley & Andy Boersma – Fender: Andy Boersma – Headlight: 1910 Jose Lucas Carbide – Tail light: After Hours Choppers – Seat: Anvil Customs – Bars: Jon Shipley – Frame mod: Jon Shipley & Andy Boersma.
Freestyle Motorcycles
The FreeStyle class is considered the premier class. It is defined as any motorcycle frame configuration or drivetrain combination. The imagination of the builder is the only restriction. The FreeStyle motorbikes are defined by their stunning design and engineering.
AMD World Championship
The AMD World Championship of Custom Bike Building programme is celebrating its 11th anniversary in 2014 at the Big Bike Europe expo in Essen, Germany.
The AMD World Championship concept was developed from a custom bike show staged at the Custom Chrome Europe dealer show at Mainz, Germany, in 2002.
AMD (American Motorcycle Dealer) Magazine is a monthly 'trade' journal that was launched in 1993 and is read worldwide in authorised Harley-Davidson dealerships and independent custom bike shops, custom bike building businesses and the parts and accessory manufacturers and distribution specialists that they buy from.