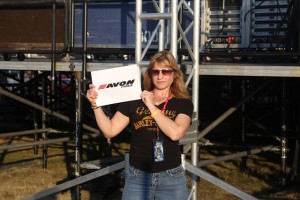 Avon Tyres Awards 2 Sets of Donuts
AVON Tyres awarded 2 sets of donuts to builders at the Muskegon Bike Time Extreme Custom Bike Show. The builders that won the award are:
FreeStyle – 2nd Place – Stan Grissom

Radical Bagger – 2nd Place – Roger Rottschafer
Click here to review the Muskegon Bike Time winners.
About Avon Tyres
Avon Venom tires features a unique sequential pattern that produces an exceptionally quiet ride with advanced casing technology that delivers a low rolling resistance, reduced tire heat and high mileage wear. Venom's are available with a narrow or wide whitewall design. Depending upon selection, tires are for speeds up to 149 mph.