Over 35,000 bikes (with 38 states and Canada represented) and 100,000 people visited the lakeshore community of Muskegon, Michigan for the event in 2013. It's America's Fastest Growing Bike Event. Bike Time Custom Bike Show Powered by Hot Rod Harley-Davidson kicks off on Friday, July 18, 2014 through Saturday, July 19, 2014. Click here for the event website.
Bike Show Details
Load-in is on Friday Morning in the parking lot of Hot Rod Harley-Davidson on the backside off Pine & Western streets. .
FRIDAY – Registration: 7AM – 11AM
FRIDAY – Show Hours: NOON – 6PM
SATURDAY – Show Hours: 10AM – 5PM
SATURDAY – BUILDERS MEETING: 9:30AM
SATURDAY – Judging: 10AM – NOON
SATURDAY – Awards: 6:00PM
SATURDAY – Concert: After Awards Ceremony
Muskegon Bike Time Event Website: muskegonbiketime.com
Map of the location – click here
Bike Show Classes
Freestyle Class –

1st Place Cash Prize: $1,500

Modified Harley – 

1st Place Cash Prize: $1,000

Retro MOD – 

1st Place Cash Prize: $750

Radical Bagger Class – 

1st Place Cash Prize: $750
Get ready for the Rumble
The annual Muskegon Bike Time Rally rolls into town and on July 18, 2014. The custom bike kicks off Friday morning and wraps up before the evening concerts on Saturday. The rally welcomes thousands of Harley-Davidson riders and Custom Bike Builders — Click here for the event details.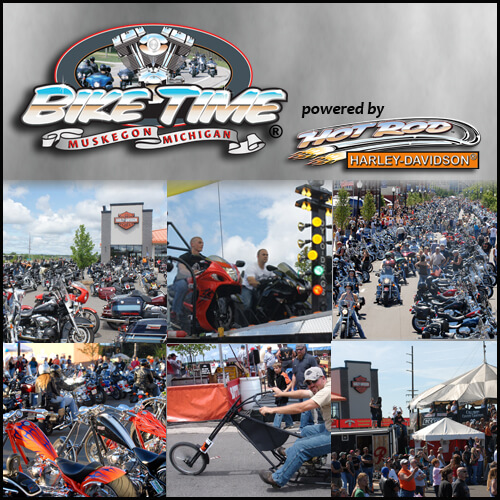 Muskegon Bike Time Returns for 2014
(Muskegon) Muskegon Bike Time will return for a 8th year to the streets of downtown Muskegon, Michigan July 18-20th.
Enjoy free live bands, contests, and cool Budweiser Beverages in all 3 of the official Bike Time beverage tents. Bands and contest schedule will are posted at Bike Time.
Bike Time will again kick off on Thursday night with a FREE bonus concert. Get ready for some hard rockin' head banging as "Let There Be Rock" a Live Tribute to Early AC/DC burns up the stage at 9pm. Getting the party started at 6pm are local boys "Pop Fiction".
Over 100,000 motorcycle enthusiasts will come to Muskegon for this annual weekend celebration.
Spectators love the festival atmosphere of Muskegon Bike Time with thousands of bikes to see and be seen riding, dozens of vendor booths, along with non-stop entertainment, delicious food and drink.  Ten blocks of Western and Clay Avenues are closed to non-motorcycle traffic and parking for the weekend as "Steel Horse Alley" comes to life.
Event Hours 
Thursday July 17 Bonus Night Concert          6pm – 11pm (4th Street Budweiser Beverage Tent)
Friday July 18                                                     11am – 11pm
Saturday July 19                                                11am – 11pm
Sunday July 20                                                   12pm – 4pm
Anchoring the end of Steel Horse Alley on the grounds surrounding Hot Rod Harley-Davidson is a concert area named "Steel Horse Station" where rock shows will be staged on Friday and Saturday nights of the Bike Time weekend. 
A full schedule of events and activities is available online at www.MuskegonBikeTime.com
About Muskegon
One reason for the Muskegon Coastline's success is its location in the heart of recreation wonderland. When the work day is finished, residents may choose from 27 miles of Lake Michigan waterfront, 400 miles of rivers and more than 11,000 acres of inland lakes for boating, swimming, fishing or just plain relaxing.
The Coastline is home to some of the state's finest parks and natural areas as well as numerous county, township, and city parks. Eleven public parks provide access to Lake Michigan including Muskegon's Pere Marquette Beach, a certified "Blue Wave Clean Beach," the only one in Michigan to receive this award. Local rivers and creeks, especially the White River and the Muskegon, are popular with kayakers, canoeists, rafters, and anglers. White Lake, Bear Lake, and Mona Lake are favorite ports of call, offering access to and refuge from Lake Michigan. For high-speed fun, Muskegon Lake is the region's full-speed lake. Public and private marinas provide thousands of boats slips and offer a range of products and services.
The Lakeshore Trail, 22.5 mile Hart-Montague Bicycle Trail, Michigan's first linear state park, and the 26.5 mile Muskatawa Trail, feature paved trails for biking, walking, running, and inline skating. Easily accessible form the Lake Express – the high-speed passenger and car ferry that travels between Muskegon and Milwaukee – Lakeshore Trail enables those who bike, skate or walk to tour Muskegon's shoreline and downtown while on a path that loops along Lake Michigan, Muskegon Lake, Pere Marquette Park, and the downtown.
From piping-hot summer days to icy winter mornings, the Muskegon area invites residents and visitors to enjoy all that Mother Nature has to offer. AAA of Michigan has ranked Muskegon as third most popular tourist destination in the state. Travel Michigan has indicated that Muskegon is the most requested community in the state for tourism information.