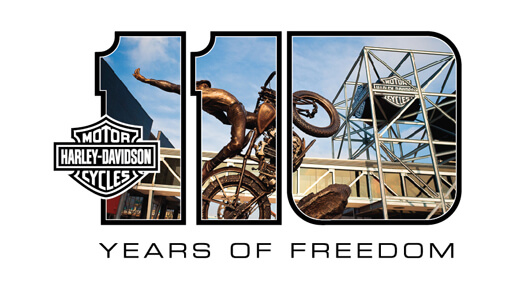 August 29 – September 1, 2013
9 a.m. to 9 p.m. every day
The Museum will be the hub of history and custom culture, a source of inspiration for riders of all ages and backgrounds during the 110th Anniversary Celebration.
The Museum will be open for ticketed, self-guided tours from 9 a.m. to 9 p.m. Thursday through Sunday. The Shop will also be open during these hours. Motor Bar & Restaurant will remain open until midnight Thursday, Friday and Saturday featuring live acoustic music on the patio.

Timed ticketing reservations are required for both Museum Members and for the general public to enter the H-D Museum.
Museum Member Tickets are free:
Limit 1 for Open Road, Serial #1 or #110, and HOG Exclusive Members;
Limit 2 for Wrecking Crew, Two-Up, Factory Custom and Hill
Climber Members;
Museum Member Guests Tickets ($14) limit 2 per membership.
Museum Members: Reserve Your Timed-Tickets Now
The general public will be able to purchase Museum tickets for the 110th Anniversary Celebration Weekend beginning
May 6, 2013.
EVENT SCHEDULE
There are many activities planned on the Museum grounds Thursday from 9 a.m. to 9 p.m. and Friday-Sunday from 9 a.m. to 6 p.m. including: the AMD Invitational Custom Bike Show, H-D Museum Custom Bike Show, Museum Members-Only Lounge, new product displays, a JUMPSTART featuring two 2014 models, a limited number of small wedding packages, custom culture artisans, outdoor concessions and live music. All outdoor activities on the Museum campus are free.
Special event schedule through Sunday includes:
Thursday, August 29: H-D Museum Bike Night and countdown to the weekend activities
Friday, August 30: New York Stock Exchange Closing "Bell" live at the
H-D Museum at 3 p.m.
Saturday, August 31: AMD Invitational Custom Bike Show awards ceremony
Sunday, September 1: H-D Museum Custom Bike Show and Freedom for Keeps Membership Sweepstakes Motorcycle Presentation
Check out the full schedule of 110th Anniversary Celebration events happening in Milwaukee Labor Day Weekend.