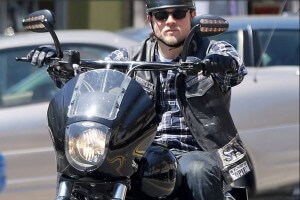 "Sons of Anarchy" came back with a roar, as the Season 6 premiere was the night's #1-rated program, in broadcast and cable, in viewers 18-49, 18-34, 25-54, men 18-49 and 18-34, and women 18-49 and 18-34. Sons of Anarchy is based on classical Shakespeare as a modern telling of Hamlet, set within the context of an outlaw motorcycle club.
The SOA Style
The SOA show has moved styling in the direction of the show. At Sturgis and at the Smoke Out, SOA reproduction bikes and bikes that are influenced by the look can be routinely seen. Styling ques include mini fairings, risers, drag bars, Thunderheaders 2 into 1 pipes and black-out paint. Bartels in Hollywood have a few SOA bikes, 2010 matt black Dynas, available for 25K.
VIDEO: The Bike 411
2 Sentence Recap – Season 6 of Sons of Anarchy
Sons of Anarchy wasted no time throwing itself right back into the action. As Jax puts it, the table is in pieces, the club is hanging on by a thread, and its members are more fractured than ever, both within themselves and with the rest of the club. The premiere telecast and encore runs combined to deliver 8.09 million Total Viewers and 5.30 million Adults 18-49.
Sons of Anarchy is an American television drama series created by Kurt Sutter about the lives of a close-knit outlaw motorcycle club operating in Charming, a fictional town in California's Central Valley.